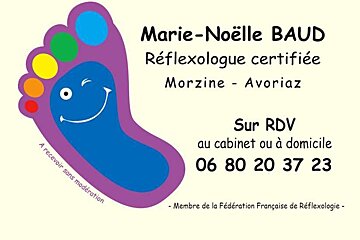 Marie Noelle Baud Reflexology, Morzine
Certified reflexologist in Les Portes du Soleil area
Marie Noelle is a qualified reflexologist specialising in the ancient healing art using a specialized version of compression touch that focuses on the hands and feet.
Reflex points in the hands and feet relate to the entire body, and stimulation of these reflexes promotes balance and well-being in the corresponding part of the body.
Reflexology has been known to aid and improve the circulation, increase energy levels and reduce/eliminate pain. Other benefits include relaxation, detoxification, improved glandular function, stress relief, and an overall sense of well being.
Location