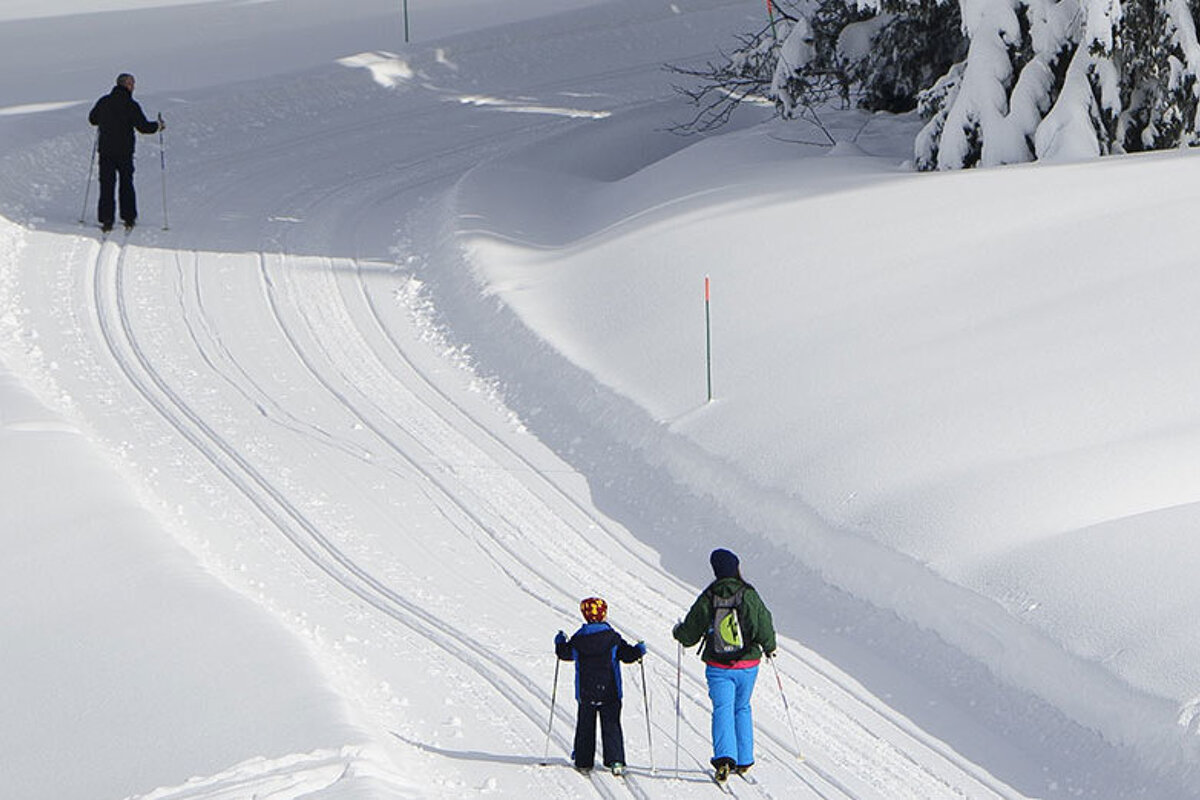 About Cross Country Skiing in Morzine & Portes du Soleil
Ski du Fond in Morzine and Avoriaz
The Portes du Soleil has 216km of tranquil cross country trails that criss-cross the area, 45km of them in Avoriaz alone.
Tracks are maintained for both the classic and skating styles, usually side by side on specially prepared pistes. These trails all operate on a one-way system (for obvious reasons), and you can buy a pass before setting out, usually from the lodges at the beginning of the trails. The trails are patrolled and it is likely that your pass will be spot-checked.
The pistes are generally open from 09:00 - 17:00 each day (snow cover permitting) and are maintained each evening. Walkers (and their dogs) are requested to keep to the marked pedestrian trails (which are free access) and not stray onto the marked ski trails.
Morzine
There are four cross country trails for all levels, but most are aimed at the more experienced skiers. The Vallée de la Manche trail is a 20km blue and red trail that starts at the car park of the Nyon gondola and is suitable for experienced skiers, until you reach the village of l'Erigné when it becomes more demanding and is from then on recommended for advanced cross country skiers only. Take note, this track is single only and not the usual two parallel tracks, and there is only a small space for skating.
Also from Morzine head to the top of the Pléney to follow the route that joins the resort with Les Gets, here you'll find some great trails. The Pléney-Chavannes trail has three different difficulty levels and is therefore suitable for beginners and advanced skiers, and the red part of the track is only open when snow conditions are favourable. The track is 4.5km long and is in hilly terrain.
You can travel further to the Super Morzine side and enjoy a long course that edges the Zore piste (black piste), and access the Super Morzine/Avoriaz trail network which with its 16km of black marked trails is mainly for experienced cross country skiers.
Les Gets
This area has many safe, well marked trails on the Mont Chéry and Chavannes slopes.
Book a cross country ski lesson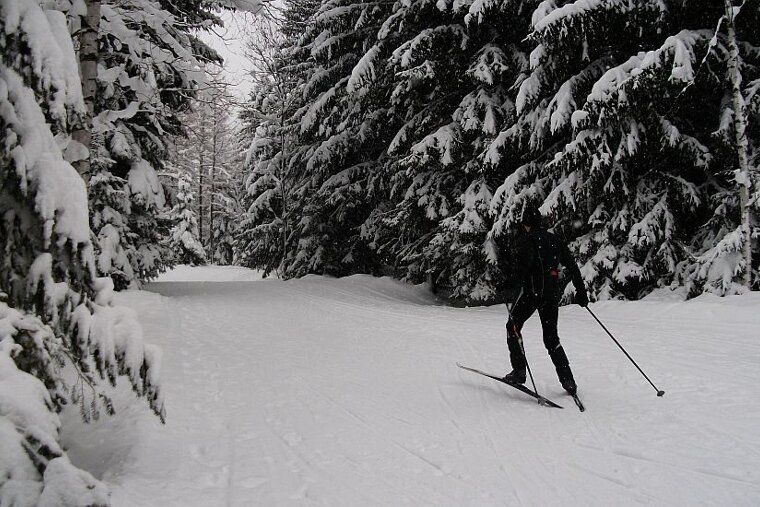 Whilst cross country skiing appears to be just walking, which it is on the flat and even on the uphill sections, going downhill is trickier than it looks. A lesson will provide you with the basic knowledge and skills that will allow you to tackle uphill sections and more importantly come back downhill nice and safely. You will learn the basic descending style of one ski in the pre-formed track and one as a snowplough type brake. Once you've mastered this try and ski downhill in a snowplough type position.
Cross country skiing
What to wear
Many cross country skiers you see in resort wear clothing more along the lines of cycling apparel rather than that of normal alpine skiers. It gets very warm cross country skiing, so wear layers that can be removed as necessary.
Take a rucksack for your clothing and supplies, and don't forget some snacks and plenty of water. The "camelbak" type hydration backpacks are great for cross country skiing, room for your layers and a drink combined as well. They also mean you can grab a drink without having to take your rucksack off and when you are drinking regularly this really helps. You will need around one litre of liquid for a three to four hour ski session. You can burn in the region of 1,500 calories in a two hour cross country session at fairly high intensity, so you will need to keep your energy levels up. Bananas are always a great snack when exercising, the slow release potassium really helps fight fatigue.
More fitted trousers will help with the technique of both classic and skating, less chaffing as your legs move. Helmets generally aren't worn but you may want a bobble hat or headband to keep your ears warm. Remember it gets really warm going uphill and cooler going downhill. Gym/cycling base layers are great if you have them or something with a wicking layer. The wicking fabric helps remove the sweat from your torso and keep it in the material itself which helps keep you cool when climbing and also stops you getting cold when descending.
Classic or skating style
As a beginner go for classic style, where you generally keep your skis in a straight line and it's more of a walking style, this is the basic style to initially master. Once you've mastered classic style you may decide this is for you and continue with your development of the technique. Alternatively, you may decide to take up skating style, this is the more advanced technique that you see the biathletes using. It's more advanced and requires a more technical skill set.
Top tip: To begin with stick with classic and see how you get on.
Skis and poles
There are different skis for classic and skating, so make sure you get the right skis for the type of skiing you are going to do. The skis are longer than normal alpine skis, somewhere between 95% and 105% of your height.
The poles are much longer too (between chest and shoulder height in relation to your body) for pushing uphill, so don't be tempted to try and use your normal alpine ski poles.
Most cross country skis are "wax-less" as the traction for going uphill is provided by a "fish scale" type grip pattern on the central section on the bottom of the ski. If your skis don't have a "grippy" section on the bottom you will need to wax them for traction, then you need to get the right wax.
Soft wax = more grip uphill, but slower downhill. Hard wax = less grip uphill, but quicker downhill.
Top tip: To begin with get skis with a "grippy" section to eliminate the wax issue.
Boots
Make sure your boots fit well, nice and snug. Cross country ski boots are more like a hiking boot, in many ways similar to a winter ankle style cycling boot. Ensure they fit well as you are basically walking and jogging in them whilst skiing for several hours a day.
Hiring equipment
You can hire cross country ski equipment from a number of ski hire shops in resort. Check in the shops for current prices.
More inspiration...
Find the cross country ski maps for Morzine.
Take a look at this year's Ski Lift Pass prices and if you're not sure which one to buy, read our Guide for more information.