Ski lessons in Morzine
How to book ski and snowboard lessons in Morzine
Whether you're a complete beginner or a seasoned pro skier, ski lessons are an essential part of any winter holiday. It doesn't matter if it's your first time or you'd like to venture off-piste and get the hang of riding powder, you'll learn more quickly and safely with an instructor avoiding any bad habits. Plus ski and snowboard lessons are a lot of fun for all ages!
There are plenty of options to consider when booking a ski school, from choosing the type of lesson to understanding the different ski and snowboard levels, and even knowing what to bring to your first lesson. We're here to help you make the best choices so that you can fully enjoy your holiday in our beautiful valley.
Things to consider before booking a lesson in Morzine
These are the main things we think you should consider before you book a ski or snowboard lesson in Morzine:
Are you skiing or snowboarding?
The first thing you need to think about before booking lessons is whether you want to learn to ski or snowboard. Perhaps you tried one and would like to give the other a go, or you've just always seen yourself riding a snowboard or swooshing on skis. Maybe the idea of having your two feet attached to a board fills you with dread, and two independent planks seems the right thing for you or vice versa? Whatever you decide, there's a lesson out there for you.
Do you want to be in group or private lessons?
It's up to you to decide if you would prefer to join a group lesson with other skiers and snowboarders of a similar level, or have one-on-one instruction. When considering group vs private lessons, both have their pros and cons as illustrated below.
What level are you?
Knowing your skiing or snowboarding level will help you join the most suitable group lesson and give your instructor an indication of what they need to focus on. If you're not sure, it will quickly become clear to the instructor and ski schools usually perform a level assessment before you starting your first lesson to make sure you're getting the best instruction possible.
Where is the ski school meeting point?
Knowing the location of the ski school's meeting point may not seem important at first, but the easier it is to get from your accommodation to your lesson, the better for everyone. This is especially important if you have kids with you and therefore lots to carry. But you don't need to camp out on the ski school's doorstep, there is a great network of free shuttle buses that'll bring you to your ski school's designated meeting point.
Are beginner ski passes available?
Beginners benefit from special discounted passes, giving access to the ski area's nursery slopes. However, before buying your ski pass we recommend you check with your school which is the right for you – you may not even need a pass for your first couple of lessons.
What do you need to bring to your first lesson?
There are a few basic items that you'll need, the essentials are a ski jacket and trousers/salopettes, gloves, warm layers (learning to ski/snowboard can be sweaty business so layers is key), goggles, and your ski or snowboard equipment, including boots and poles. We also recommend you buy or rent a helmet, and don't forget to pack your sunscreen and some water.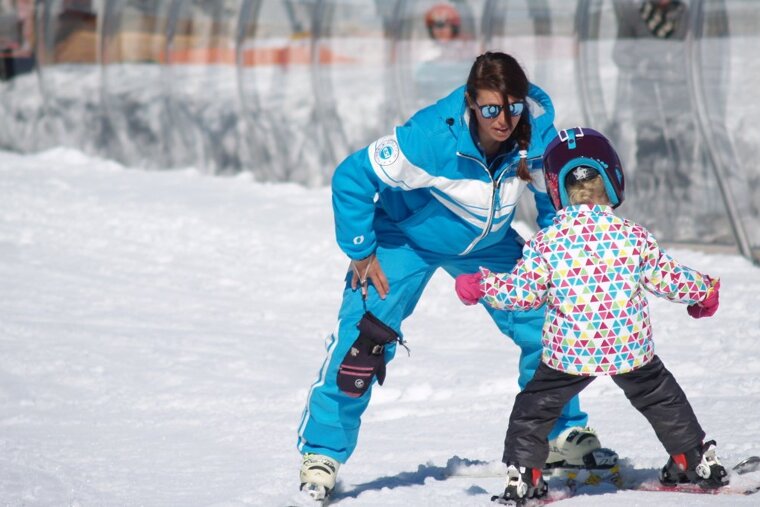 Adult ski lessons in Morzine
Ski schools usually offer adult lessons to anyone aged 12-13 years old and over, although some have specific programmes for teens (in that case, adult lessons usually start at around 16-17 years old).
Are you too old to learn to ski or snowboard?
No, never! One of the great things about skiing and snowboarding is that they can be taken up at almost any age as long as you're reasonably in shape. A lesson is the only way to learn safely and without picking up bad habits. Many instructors have had special training to teach people who are over 50 years old, so you'll be in very good hands. Checking with your doctor before you hit the slopes is also recommended, they'll make sure you're fit to ski.
Is snowboarding harder than skiing?
Not really, although skiing and snowboarding have very different learning curves: skiing is usually easier to learn but harder to master while snowboarding is harder to learn but easier to master.
Skiing is, therefore, faster to pick up. During your first few days skiing, you'll probably be able to carve turns down easy slopes and have fun while doing it. Snowboarding offers a completely different learning experience, though, as you'll be falling a lot more (we suggest you invest in some knee pads, wrist guards and impact shorts). However, progress is much quicker when you're a snowboarder. After a few lessons, you'll reach a lightbulb moment when snowboarding will just click – once you've managed to keep your balance on the board, you'll be cruising through to those harder pistes in no time. Skiing, on the other hand, is more technical and nailing the perfect turn takes years, that's why taking lessons is always a good idea even if you consider yourself an expert.
As for which one is more dangerous, they're more or less on a level playing field. Injuries tend to be different, though, as knees suffer more from skiing whilst snowboarders usually sustain more damage to the upper body.
How many lessons does a beginner need?
Again, this depends on your fitness and ability, plus any previous experience (surfers and skateboarders tend to pick up snowboarding quickly). You'll very likely need at least a week of lessons to get the hang of your new sport, but the more lessons you take the faster you'll progress. It's also always a good idea to have a couple of lessons on a dry slope to learn the very basics before hitting the pistes for real.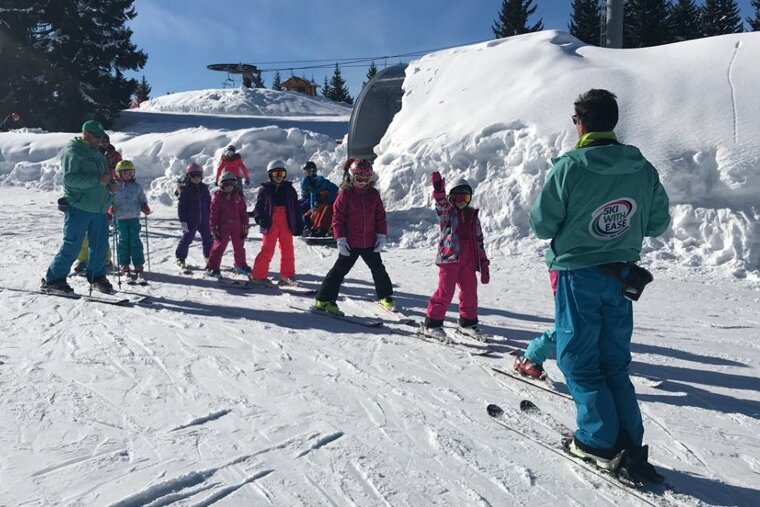 Child ski lessons in Morzine
The best way for your kids to learn how to ski or snowboard is to put them through ski school, where they'll also get to enjoy fun activities and meet other children their age. Some ski schools even provide lunch and/or daycare for your child, either for half-day lessons or on full days, so you'll get more time for yourself on the slopes!
At what age can children learn to ski or snowboard?
The youngest age ski schools usually accept children is two and a half to three years old, even if younger children can sometimes be taught by a private instructor. A combined programme of lessons and other activities is usually offered for kids aged four and under while the recommended age for children to join normal group ski lessons is usually four to five years old.
As for snowboarding, ski schools usually offer lessons for children aged around seven to 10 and over. This is because it's been argued that snowboarding requires more muscle development in the legs, and more coordination, balance and stamina than skiing. But things are changing and there are more and more schools offering snowboarding lessons for children as young as four. Enquire when booking.
What are children's ski lessons like?
It depends on their age and ski level. Three to four-year-olds can join most ski schools, as they usually have special programmes combining short lessons and other activities in a snow garden or 'Jardin de Neige' (a fun area for kids to learn in a safe environment). These can sometimes include lunch and day care, either for half or full days.
From five-years and up children can join normal group lessons for two or three hours, either in the morning or in the afternoon. Some ski schools offer group lessons for older children and teens, with the possibility of learning freeride, freestyle and off-piste technique. Ask if they offer anything like this, otherwise, consider putting your child into an adult lesson.
Our local team's advice: Make sure your children have snacks in their pockets or a little money to allow them to buy a drink or something to eat during the day. It's also a good idea, especially for smaller children, to put a note in their pocket with your name and telephone number in case the school needs to contact you, or even better tape their name and your number onto their helmet. Also make sure you are there on time, if not before the pick-up time. Ski instructors are busy people and will not be able to wait with your child because you weren't there.
Group vs Private ski lessons in Morzine
When booking your ski or snowboard lesson in Morzine, you'll find that there are two options: group or private. These depend on whether you book the whole lesson for yourself and your group or you share it with other people.
Group ski lessons
At a group lesson, ski schools gather skiers and snowboarders of a similar level together, cutting down costs. These usually run for five or six days (either Sunday to Friday or Monday to Friday) for two to four hours in the morning or afternoon. Some ski schools also offer three-day ski and snowboard group lessons. ​Groups tend to be pretty small, comprised of six to eight people and up to a maximum of 10.
Pros: The main advantage of group lessons is the cost as they're less expensive than private lessons. They're also more sociable, allowing you to meet new people whose ski level is similar to yours.
Cons: You'll be sharing your instructor with other people so you won't get their undivided attention. This means that progression is usually slower than in private lessons which, in turn, means that group lessons are generally less intense than private ones. You'll also have to adapt to the group lesson's dates, times and duration, as they're usually not available for less than five days.
Who should book group ski lessons?
Group ski lessons are recommended for beginner and intermediate skiers who want to learn the basics of skiing and snowboarding at an affordable price – it's usually much more fun to learn to ski with a group of people! They're also very popular with children, who are grouped with other kids their age allowing for a fun, friendly environment.
Our local team's advice: Group ski lessons during peak weeks such as Christmas, New Year, Easter and, especially, the February school holidays get filled up pretty quickly so make sure you book them well in advance. Joining a ski lesson during these busy times has an added bonus: you'll get to skip the queues when you're with an instructor!
Private ski lessons
In private lessons you'll get an instructor all to yourself. Private instructors can generally accommodate small groups of people, ranging from one to six people, so they're a great option for friends and families as long as everyone's level is more or less the same. The schools usually offer private ski and snowboard lessons for a minimum of two hours and a maximum of a full day, and you can book them for as many days as you want.
Pros: The main advantage is you'll get personalised attention, so you can improve at your own pace and focus on the skills you want to master or those you struggle more with. Private lessons are also more flexible in time, duration and location than group lessons, so they're a good option when you want your lesson to start and end at specific times, meet your instructor in a particular place in resort, or book a lesson for just one or two days.
Cons: Private lessons are more expensive than group lessons. However, their cost can be split when sharing your instructor with your friends and family, reducing the price per person considerably. If you're not after intense technique-based tuition, private instructors are also great for those looking to navigate a new resort and get a few tips on your first days back on the slopes. Don't confuse a private instructor with a guide, that's a different discipline altogether and a guide is unlikely to be keen to give you instruction on your skiing/snowboarding. If you're looking for a private guide, make that clear when booking.
Who should book private ski lessons?
Private lessons are recommended for intermediate to expert skiers and snowboarders who want to focus on specific skills or who have hit a plateau in their learning. They're ideal for those looking for a unique experience as the instructor will be able to tailor the lesson to your specific interests and needs, such as off-piste riding or learning to ski-tour/split-board.
Our local team's advice: We know only too well that no-one is above a private lesson, even for those of us that have been hitting the slopes for over 20 years! A private instructor will take you outside your comfort zone, find flaws in your technique you didn't even know existed and show you just how far you can go when you really push your limits. You'll not only get a handful of exercises to work on for the rest of the week but also a good workout!
How much are ski and snowboard lessons?
Ski lesson prices depend on your location, dates, times and of course, whether you're booking a private or group lesson. A five-day group ski lesson for two to three hours per day start at around €250. Private ski lessons for one or two people start at around €120 for two hours, rising up to around €400 for a full day. For up to date prices, availability and to book your lesson, take a look at our selection of the best ski schools.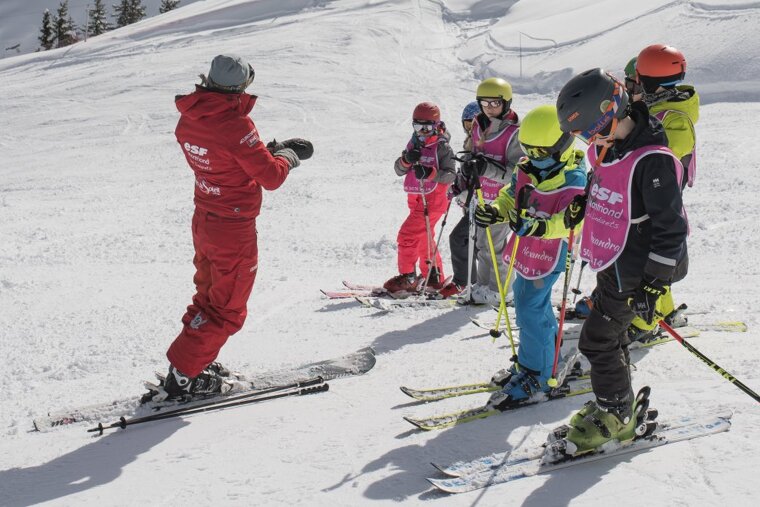 Ski levels in Morzine
Every ski school has its own system to assess the skier's and snowboarder's level, in order to place them in the best-suited group lesson or decide which areas to focus on during a private lesson. Your instructor will perform a level assessment before starting your lesson to ensure that you've been assigned to the right group.
Which snowboard or ski level are you?
There are four basic skiing and snowboarding levels that can be applied to both adults and kids, usually divided into more specific sub-levels. Different ski schools will give them different names but these are the basics:
Snowboard & Ski Lesson Levels

Level
Slopes
Skills
Beginner
First-timer
You've never skied or snowboarded before or have spent less than a week on dry slopes
Green
Skiers: you can do the snowplough
Boarders: you can side slip and do the falling leaf
Green → Blue
Skiers: you can do snowplough turns
Boarders: you can do basic C-shaped turns
Intermediate
Blue
Skiers: you can link turns at moderate speed on green and blue runs and are starting to master parallel turns
Boarders: you can do S-shaped turns
Blue → Red
You're confident going down blue runs
Advanced
Red
You ski red runs in control. Very good turns
Red → Black
You can ski black runs and moguls in control and are starting to venture off-piste and ski all kinds of snow, from bumps to powder
Expert
All Mountain
You can ski on and off-piste confidently and in control, regardless of the snow quality, and can hit almost any feature in the snow park
Freeride/Park/Race
You want to improve certain specific skills or want to start racing or instructor training
Ski school meeting points & beginner areas in Morzine
It's worth asking where the ski school meets every morning (or afternoon) before you book your lessons to make sure it's close to your accommodation or you can at least get there quickly and easily.
Where are the ski school meeting points in Morzine?
Most ski schools meet at the bottom of the ski lifts on the Pléney in Morzine. In Les Gets, it's normally at the foot of the Chavannes lift. Some ski schools and private instructors may also be able to meet you at a location of your choice, you just need to ask if they offer this service.
What's Morzine like for beginners skiers and snowboarders?
Morzine is the ideal ski area to learn to ski and snowboard boasting perfect pistes for absolute beginners and advancing beginners alike. Morzine has more than one nursery slope and so does Les Gets. Once you've mastered the nursery slopes the Portes du Soleil has some great, wide-open blues which will help you take your skiing to the next level.
Morzine beginner area: The main beginner area is located around the Pléney cable car, which is why ski schools usually meet here. There is a beginner section at the bottom, serviced by the Bouchet and Mas Verjus drags, and another one at the top of the Pléney cable car, serviced by the Nabor drag and a magic carpet.
Les Gets beginner areas: Head up the Chavannes lift to access the Mappys beginner area, served by several drags. There are also some great family-friendly fun areas here, accessible using the Grand Cry drag, which are a children's paradise, with music, colourful decorations, games and much more.
Advanced beginner areas in Morzine
There are 29 blue runs in Morzine-Les Gets alone. These are cruisy and wide, perfect for those who want to take their skiing to the next level. Piste B, C and D all head down to the bottom of the Pléney télécabine – the best for beginners is Piste B as it takes the most leisurely and longest route down the mountain, meaning you'll not encounter any steep sections as you build your confidence.
Beginner lift passes in Morzine
Before purchasing your ski pass, talk to your ski school or private instructor, they'll be able to recommend the most suitable lift pass for your needs depending on where they're going to take you, and your ski and snowboard level. Many ski schools also sell discounted ski passes to those booking a lesson with them, ask when reserving your course.
Are beginner ski passes available in Morzine?
Yes, there are one-day beginner ski passes available in Morzine, giving access to the Pléney cable car, the Nabor and Belvédère chairlifts and the Viking magic carpet. They are available at the ski pass offices in resort only.
Over in Les Gets, the so-called P'tite Glisse pass includes access to seven lifts (Chavannes cable car, Vieux-Chêne, Mouille au Roy and Grand-Cry drag lifts, and the magic carpets and rope at the Mappys beginner area) and 13 pistes (five green, five blue and one red). They are available online or at the ski pass offices in resort.
What to wear and what to bring
If you've never skied before, you may feel a bit lost as to what you need to bring to your first snowboard or ski lesson. Worry not, we're here to help!
What should you wear the first time skiing or snowboarding?
Here's a list of what we believe are the most important things to bring to your first lesson. It may seem like a lot and you'll probably feel like you're wearing medieval armour the first time you put all of it on, but once you're on the slopes you won't even notice.
Skiwear: The key items to bring with you on your first lesson may be the most obvious – you'll need warm and waterproof jacket and trousers/salopettes and gloves or mittens. We recommend that you borrow them if you've never skied before since they're usually not cheap and you may decide that this new sport isn't for you after a week in the mountains. Some ski rental shops and ski schools in resort may offer clothing for rent and there are online businesses renting out skiwear as well.
Layers: Weather on the mountain can change pretty quickly, so you're much better off wearing layers of thinner items as opposed to a big, bulky jumper. Try thermal tops and leggings plus fleeces and hoodies. A neck warmer is also a must, especially if the weather turns.
Socks: Bring a variety of socks ranging in thickness. It may sound weird but, in our experience, rental boots can be quite painful with the wrong socks.
Goggles or sunglasses: The sun shines brighter on the slopes as it reflects on the white snow, so you want to make sure your eyes are protected. We personally prefer goggles as they also protect your eyes from the wind and snow, and you can change their lenses to low-visibility ones when the weather is bad.
Ski/snowboard gear: Bring your ski or snowboard boots, snowboard/skis and poles with you to your first lesson. Again, if you're a beginner we recommend you hire them at a rental shop – this is especially important for kids as they may grow one or two sizes from one season to the next and you don't want to splash the cash on a pair of ski boots they're only going to wear for a week.
Helmet: Wearing a helmet in ski lessons is strongly recommended, even if it's not a legal requirement. You can never be too careful! Most hire shops rent helmets as standard so you won't need to purchase one.
Sunscreen: Sun reflects off of the snow, so its intensity is magnified, and even when it's cloudy the sun here can (and will) still get you. Don't forget to keep topping up with a good layer of SPF50+ sunscreen on your face, and a lip salve with an SPF50+ is also a must.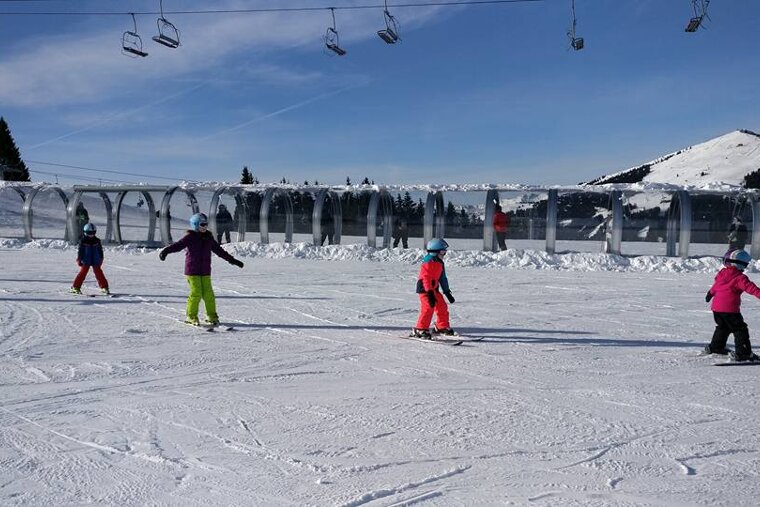 What else is there to learn in Morzine?
Ski schools in Morzine offer a wide range of lessons, catering to all levels of skiers and snowboarders from complete beginners to expert off-piste riders, as well as all ages and budgets.
Are there any other types of ski and snowboard lessons available?
Yes! Group and private lessons are only two of the many different kinds of lessons on offer in Morzine. Below you can find other, lesser-known snowboard and ski lessons on offer here, all of which are available in English.
Off-piste ski and snowboard lessons
If you're looking for off-piste technique and ski guiding, then there are a number of local ski and snowboard instructors and mountain guides who know the area like the back of their hands and will be able to take you exploring. When booking an off-piste lesson with an instructor, you'll be able to hone your skills and master riding all kinds of snow, from powder to crust and corn. You'll also learn how to be safe in the backcountry with avalanche and glacier rescue training.
Clinics and courses
There are a number of specialist courses and clinics offered by the schools focused on specific skills, which can help build your technical ability and improve your overall skiing or snowboarding. There may be clinics specifically designed for tackling bumps and moguls, powder snow, steep skiing, freestyle jumps and tricks in the snow park, ski racing, boardercross, glacier rescue, avalanche training or courses meant only for women.
Disabled skiing
Handiski makes skiing much more accessible for disabled skiers and less-able bodied people. Highly qualified instructors will accompany you around the pistes and onto the ski lifts, making sure you are safe and have a great experience. There is usually a range of equipment available, including sit-skis, uniskis and dual skis.
Cross-country skiing and biathlon lessons
Cross-country or Nordic skiing will have you pushing yourself across flat(ish) snowfields on narrow skis, either using the classic or the skating style. Biathlon, on the other hand, is a fun combination of cross-country skiing and shooting created as part of Norway's military training in the 19th century.
Ski touring and splitboarding lessons
When ski touring or splitboarding, you'll get the chance to climb up the slopes on your touring skis or splitboard aided by the skins attached to the base of your planks, being able to explore outside the ski area bounds. For expert skiers and snowboarders only.
Telemark skiing lessons
Named after the region of Telemark in Norway, where this technique originated in the 19th century, telemarking is a ski style that combines aspects of Alpine and Nordic skiing. Your heel will remain unattached to your bindings so you'll have to slide down by bending your knee... we promise it's a great workout!
Skiing & snowboarding tips
The best way to learn to ski and snowboard, and the only way to do it safely, is to book a group lesson or a private instructor. For those keen to practise a bit on their own after their ski school course, we've teamed up with some of the resort's top ski and snowboard instructors who have compiled a list of the key Skiing Tips and Snowboarding Tips to improve your riding. From the basic techniques to mastering moguls, dealing with steep slopes or carving.