About
Climate change has become one of the world's major issues and talking points.
The continued development of ski resorts creates significant pressure on the mountains and its eco-system, and it is an undisputable fact that the glaciers are retreating. So if you want to know how you can help preserve the mountains for future generations, read on…
Protecting the local environment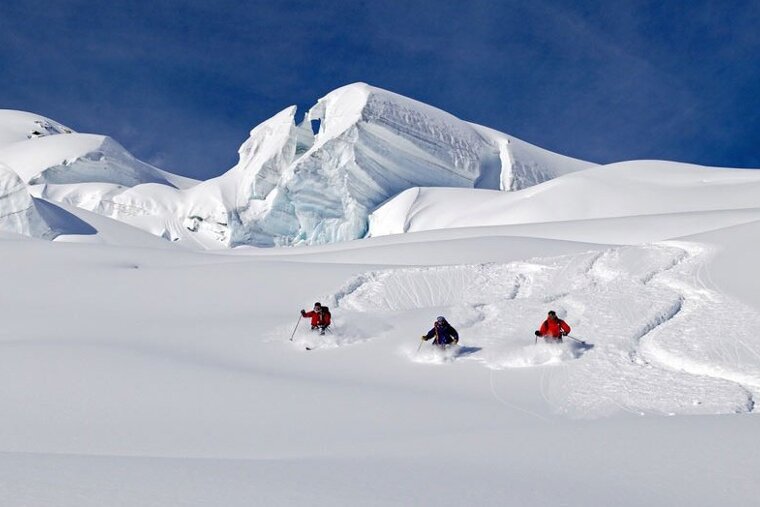 You can show your love of the mountains and how you care about their future by supporting their cause. Protect Our Winters is a global organisation that was set up to unite and actively engage the global snow sports community to lead the fight against climate change. Visit their website for more information on how you can help.
---
Recycling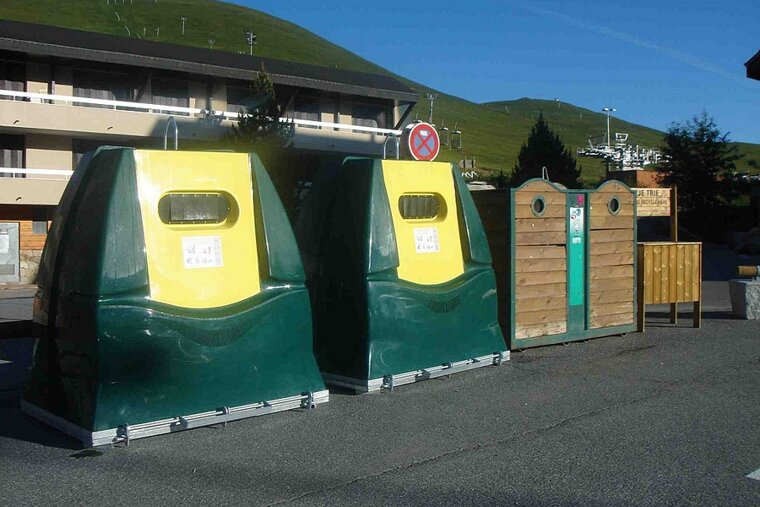 In most towns across France you will find central points to get rid of your rubbish and recycling. These collections of giant bins (known as moloks) are the best and easiest way to recycle your holiday packaging and bottles. They are normally placed around towns at intervals so you will never need to walk far to find one.
---
Environmental tips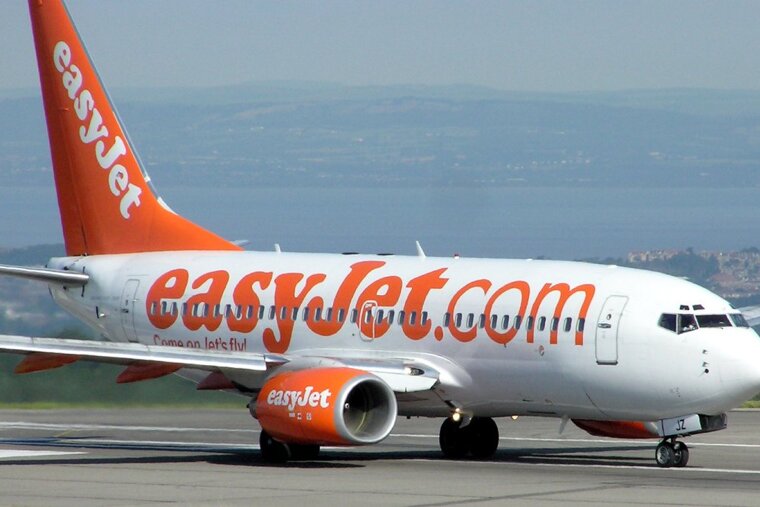 Be aware of your environmental impact as skiers and boarders. Educate yourself about your environmental impact on the mountains, and what you can do to minimise it
Leave no trace - do not litter the slopes. When the snow melts at the end of the season, litter left behind by the people that have been there will remain. Bin it or take it home with you. Did you know it takes up to two years for an orange peel skin to be absorbed by the earth; and shockingly a cigarette butt takes up to five years. If you find litter on the slopes, be responsible, do the right thing - pick it up.
Do your bit to reduce global warming on holiday and at home. In hotels, re-use your towels each day, and where possible recycle your household waste. Many French ski resorts now have excellent recycling facilities for plastics, cans and paper; glass and other waste. Additionally, if you're not in your chalet or hotel room, switch off electrical appliances when not in use. A TV that is viewed for less than one hour a day can actually use more energy when left on standby than it does during the time is being watched.
Encourage tour operators to adopt green policies. Find out if your tour operator offers train travel as an alternative to flying, if they use paper from sustainable forests for their brochures, if they use, for example, low-wattage light bulbs in their chalets and bio-degradable detergents.
Investigate whether your chosen resort uses environmentally friendly practices. Many resorts now use bio-diesel fuel in piste-bashers, solar panels for heating, hydro-electricity/wind energy for power and a host of other initiatives. Some resorts use the International Standards Organisation (ISO) 14001 as a mark of their environmental credentials.
Reduce CO2 emissions. By flying fewer miles, or switching from air to rail, you can help reduce the volume of greenhouse gases that contribute to climate change. When possible, use your bike instead of your car.
Respect the natural habitat of mountain animals and plants. If you ski through trees, you can damage them by knocking off branches and killing young shoots under the snow. Take care. Many areas are out of bounds to protect the natural habitat of animals and plants - not just safety reasons.
---
What is a glacier?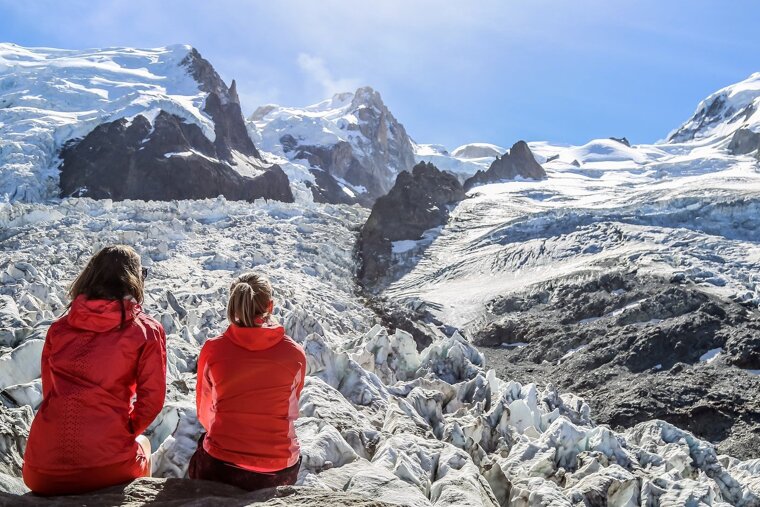 A glacier is a "continuously moving body of ice" that forms when the balance between its accumulation differs from that of its ablation. In real terms this means that a glacier will form where the accumulation of snow and ice inputs ('accumulation') are more significant to its melting and evaporating process outputs ('ablation'). It is this continuous process that determines a glacier's size (thickness) and length. Other factors such as the reflectivity of the glacier's surface, the annual precipitation, humidity and wind speed will also affect a glacier's input and output balance.
As a glacier grows and moves it changes in appearance whilst simultaneously carrying with it gravel, rocks and large boulders. Together, these materials act as sandpaper slowly carving away at the surface below creating a defined path whilst widening the rock underneath. The rate and direction of movement for a glacier will largely be determined by the slope angle, ice thickness and ice temperature.
As our climate changes, so does the balance of these 'inputs' and 'outputs'. Sustained periods of warm temperatures in both the summer and winter seasons are currently affecting the thickness and advancement of the worlds glaciers. As global warming leads to insufficient snow falls (as warmer temperatures mean it now falls as rain), glaciers that would normally grow are now finding that there is insufficient snow to replace the melt process.
Over the past few years, warmer summer and winter temperatures in the French and Swiss Alps have impacted on the length and duration of snowfall during the seasons. European ski resorts are the first places where the impacts of these initial climate changes are being seen. Several glacial ski resorts have reported that they are suffering from significant and serious glacial melting which has potentially been caused by these temperature variations experienced in recent years. Of these ski resorts: Tignes, Les 2 Alpes, Alpe d'Huez and Avoriaz have all expressed varying amounts of glacier shrinkage, however the visual evidence and impact in some mountain resorts is more evident than others. The once popular summer skiing destination of Alpe d'Huez was not able to open its glacier for summer skiing in 2006 as there was 'a real problem with the glacier disappearing'. Although the winter season of 2005/06 recorded good snow levels, it was insufficient and did not stop the glacier retreating.
---
Glacier shrinkage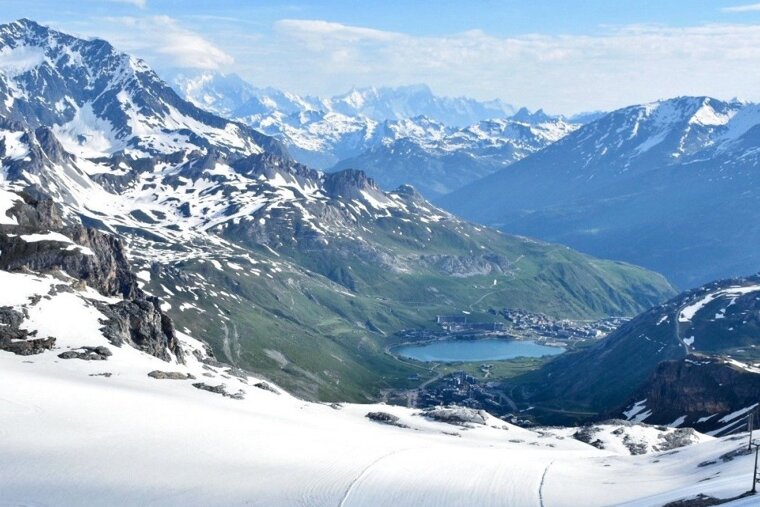 Scientists have been watching global warming, and man's effect on climate change for some years now. In discussing global climate change and its impact on the world's glaciers scientists from the University of Zurich, Switzerland, recently argued that should current temperatures increase overall by between two and five degrees, the European Alps could worryingly see some 80% of glacial cover being lost by the end of the 21st century. In addition to this, the World Environmental Day (5th June 2007) was attended by many leading climate experts who noted that snow falls levels were 1.3% down on previous decades. Scientists there warned that a rise in temperature of only one degree could raise the snowline in the Alps by 150 metres which would have a serious impact on Europe's low lying ski resorts.
In further examining glacial shrinkage we understand that in addition to the weather patterns, resort latitude and orientation also play key roles in glacial creation and stability. There are some European glaciers that have lost glacial mass at a faster rate than others and these additional contributing factors could be to blame. Swiss and Austrian resorts have noted a marked change in their glacier retreat since the early 1980s. Studies on this subject indicate that these glaciers have lost almost a fifth of their total area since 1985, this rate is seven times faster than the previous 123 years.
The Sarennes glacier is located in the Grandes Rousses massif in the Southern Alps. Over the past 20 years the glacier has seen significant reduction in glacial mass with more than 20 metres of its glacier disappearing. In contrast to this, Tignes has similarly noted a reduction in its glacier mass on the Grand Mott, albeit at a less dramatic rate. Didier Richard, a glacier specialist with the CEMAGREF in Grenoble (an agricultural and environmental engineering facility), commented recently that the Alpe d'Huez glacier will 'without doubt have disappeared by 2050!' which is worrying for the environment and surrounding wildlife, but also for the resort's tourism industry and water supplies. In 2006 Alpe d'Huez chose not to open the glacier for summer skiing as it had done for many previous summers. This was not due to a lack of snow that winter, in fact, the snow record for the winter 2005/06 season had been pretty good for the Southern Alps. At the time, a spokesman for the resort commented that there was 'a real problem with the glacier disappearing'.
Glacial shrinking is not without risks either. Frequently as glaciers retreat, large glacial lakes will form behind them. Where these glacial lakes are held behind moraine dams there is always the potential that the ice and pressure could cause the moraine to break, creating widespread flooding in the valleys below. In the Himalayas for example, there have been many examples where glacial lakes pose a threat to local valley communities. Closer to home, in 1892 a lake that was fed from the Glacier de Tête Rousse burst its banks emptying 200,000 cubic metres of water into the town of St. Gervais, killing 200 people. Only recently, a large glacial lake measuring five hectares across and 25 metres deep formed due to summer melt at the back of the Glacier de Rochemelon (3,218m) in the Savoie area of France. In this instance, current glacial experts were monitoring the situation and the lake was drained to avoid any risk to the local valley population. Phew!
Probably one of the most visual examples of 'Glacier Meltdown' is in Chamonix, France. Chamonix is home to some of the most well known glaciers namely, Mer de Glace (sea of ice), Glacier d'Argentière and the Glacier des Bossons. All are pretty spectacular pieces of scenery, but statistical analysis of glaciers indicates that many European glaciers have been steadily receding since the early part of this century. Take for example the Glacier des Bossons. Long hot and dry summers during 1995 and the early 2000s saw 'glacier melt' accelerate significantly, losing some twenty metres in length and volume. The summer of 2003 was the hottest European summer on record, with temperatures in Chamonix alone reaching nearly 40 degrees. The same has happened in the summer of 2015 when a heatwave throughout the month of July saw temperatures rise above seasonal average and the Bossons Glacier lost several chunks of ice from the bottom.
Whilst these images give cause for concern, the 1995 receding position of the glacier was actually comparable to that of 1952 where a natural period of glacial regression created a similar effect. Don't worry though, the Glacier des Bossons is not going anywhere fast. It is in fact possible that the Glacier des Bossons is currently in such a period of natural regression and it has yet to reach a balance point where it can commence its redevelopment. It is bizarre to think though that at the turn of the 20th century, religious processions were once organised to push back the Glacier des Bossons as it threatened the houses and farms in the village of Chamonix. Maybe the 'almighty forces that be' finally started listening a century later?!
Further examples of 'glacial meltdown'
During the summer of 2005, the Glacier d'Argentière in Chamonix, France; experienced a substantial sérac collapse on the tongue of the glacier. A large 200m section of ice broke away from the main body of the glacier and at the time, it was reported to be one of the largest collapses seen in the area. Experts then predicted that if the pattern of warm summers and dry winters continued, this tongue part of the glacier would disappear in around 20 years. Since 2005, the distance between this 'tongued' area and main body of the glacier has increased quite significantly.
---
Glacier wrapping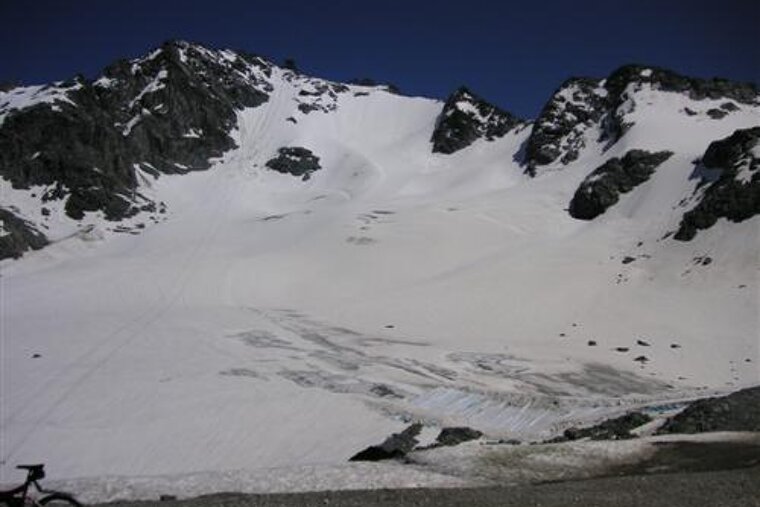 Glacier wrapping is becoming more common as glacier mass is depleting at an alarming rate. With the threat of up to 70% of Swiss glaciers disappearing in the next 30 years, the ski resort of Andermatt (Switzerland) decided in the summer of 2005 to wrap their disappearing Gurschen glacier. The football-field-sized specific foil works by reflecting the sun's rays, thus protecting the glacier from heat extremes. The protective foil is a combination of polyester and polypropylene material which when placed on the glacier prevents the top snow layer from melting, essentially keeping the cold in and the heat out. It's not cheap to wrap a glacier. The cost to cover approximately 3,000m² of the Gurschen glacier was around €65,000, so it's not really viable to cover an entire glacial area or the ice sheets in the Antarctic, for example.
The resort of Andermatt was the first of the Swiss resorts to trial the wrapping method. As other glacial resorts were watching on, Andermatt was heavily criticised by environmental groups who protested against the move saying that fundamentally it was a 'change in policy' that was required, rather than a 'short term fix'. Alexander Hauri from Greenpeace commented that covering the glaciers was 'absolutely absurd' and that climate change could not be combated by 'applying these oversized sticking plasters!' For Andermatt not only was it necessary to protect its glacier for ecological and environmental reasons, its continued presence is vital to the success of the resort as a top skiing destination.
Austrian resorts also started wrapping their glaciers in 2005, and by the end of the 2005 summer season the Swiss resort claimed to have successfully saved a significant amount of the glacier. At the time of the Swiss wrapping, Wener Schnappauf the environmental minister for the Bavarion (Bavière) region also called for a renewed worldwide effort to protect the surrounding environment. Schnappauf claimed that at the current rate of global warming, the Zugsptize glacier on the southern slopes of Garmisch-Partenkitchen ski area in the Bavarian Alps (2,962m) would completely disappear within 20 years. One hundred and fifty years ago the Zugsptize glacier covered a terrain of around 329 hectares; this figure has reduced somewhat in the past few years with its coverage reportedly closer to a mere 98 hectares! It's a worrying statistic.
The French resort of Val Thorens, Europe's highest ski resort, had hoped to cover 750m² of the Glacier de Chavière in the Vanoise National Park. SETAM, the Val Thorens lift company needed to convince the powers that oversee the Vanoise National Park as the area that was to be protected was on the perimeter. In June 2007, it was rejected on the grounds that it was part of the National Park.
A few of the glaciers that are currently using this technique across Europe include:
Gurschen Glacier, Andermatt, Switzerland
Mont Fort Glacier, Verbier, Switzerland
Zugspitze Glacier, Garmisch-Partenkitchen, Germany
Stubai and Pitztal Glacier, Austria
---
Will glaciers become a thing of the past?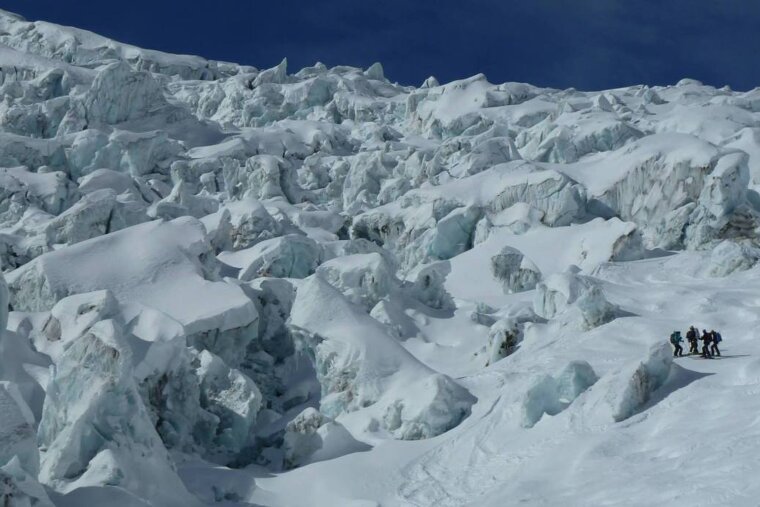 The French Mountaineering Federation (FFCAM) has put out an appeal to any interested parties to collect photographs of glaciers, both past and present, as part of an awareness campaign highlighting the plight of France's glaciers. The intention is to put together a photographic exhibition of glacial evolution, illustrating how they have changed over the years. If you have any "before and after" photos of glaciers that you would like to share then please send them to the FFCAM.
At a recent conference on climate change held in Vienna, the sobering verdict reached by scientists was that 'by 2050 the vast majority of glaciers in the Alps will have disappeared'. The slow but steady retreat of the Alpine glaciers is almost tangible, in the Tyrol, in Austria for example, an annual reduction of 3% or one metre has been observed. Given that the average depth of alpine glaciers is only 30m, experts are convinced that if the trend continues the only surviving glaciers will be those which form above 4,000m altitude. The inevitable meltdown would mean floods which could threaten the people who live in the valleys. Climatologists called for preventative measures to be taken.
---
More inspiration...
The link between climate change and these melting glaciers in our mountains is clear. Not only does their very existence help keep our planet cool, their increased reduction is allowing the earth to continue warming. The melting ice contributes to rising sea levels, thereby increasing coastal erosion and ocean temperatures, elevating storm surges and creating more frequent and intense coastal storms like hurricanes and typhoons. There is no denying that their survival is intrinsically linked to ours and we must do what we can to protect them.
---