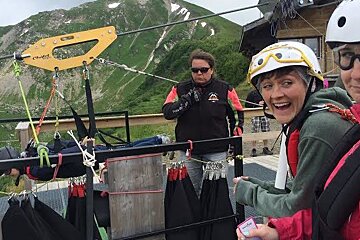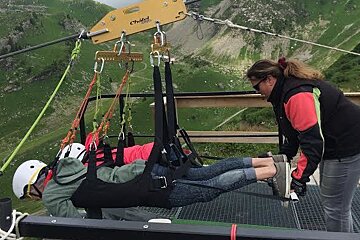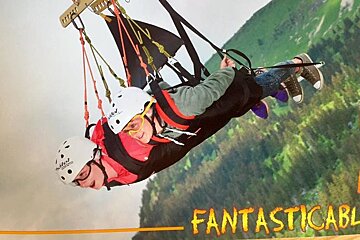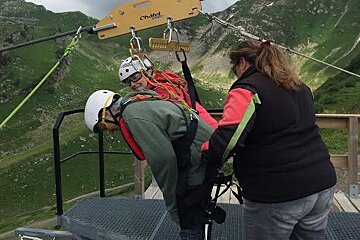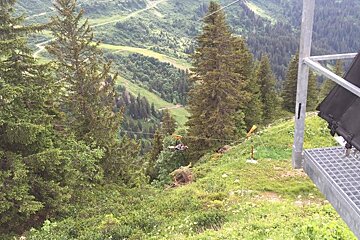 Fantasticable Review
Flying high above the mountains in the Portes du Soleil
Imagine for a minute soaring high above the mountains, with only the sound of the wind for company and with spectacular views rolling out for miles and miles beneath you. That's exactly what you feel when on the Fantasticable Zipwire in Chatel. Admittedly that flying sensation is accompanied with a few other sensations as well...fear, panic, excitement and of course a bit more fear...
We've been meaning to give Fantasticable a go for a while. So many people have said it's an amazing experience and they weren't wrong. We picked a sunny day which is certainly advisable and headed off to Chatel to see what all of the fuss was about. The easiest way to find the zipwire is by either driving up to the Lindarets bowl or hopping on the Ardent Telecabine and then jumping on the Chaux Fleurie lift. The Fantasticable office is to the right as you hop off the lift.
We were feeling pretty confident at this point, I mean after all, it's only a zipwire right? You get those at children's playgrounds. That was until we saw a few people giving it a go ahead of us. Suddenly our stomachs began to do butterflies. You see someone launch themselves off the edge of a cliff, attached only to a mere cable, whizz across a huge canyon to the other side of the mountain. I mean what's scary about that?!
However, by this point we had come too far. We would be ridiculed forever if we backed out. So we nervously headed to the office to pay for our tickets and get measured up for our attractive zipwire suit. It's between 30 and 35 euros for a ticket and you can choose to fly solo or with a friend, that's if your joint weight is below 150kg. So not only are you nervous about the impending flight but also about stepping on the scales. We were an acceptable weight so decided to fly together.
You're kitted out with something that resembles a dinner lady's apron and a helmet and goggles and then told to walk over to the launch pad. You stand and wait in line for the people in front of you to go, which of course adds to your nerves and anticipation. When it's your turn you walk up to the launch pad and are clipped to the wire. You're then told to lie down and have to hoist your feet up to hook to a bar that comes out behind you. You're told in no certain terms to "stay in this position" and you're then unclipped and fly head first towards the other side of the mountain. I have to say there's no messing around and certainly no room for scaredy cats. We were off before we knew it.
I have to say the initial part of the flight is actually a lot tamer than I expected. You don't feel like you're actually going that fast and you do feel quite secure. However, the cable dips towards the middle of the ride and you do accelerate. This is when you start to think about what you're actually doing and the fear creeps in a little! You can reach up to speeds of 100km an hour and the wind is pretty bracing. I'm not sure I took a breath for the whole flight. It takes about three minutes to get to the other launch pad. Where, if you're screaming to loudly, you may well get told to shush...
You're unhooked by the supervisor who then points you in the direction of the return flight take off. I mean, as if one zipwire wasn't enough, you have to do it all over again. The return leg is pretty similar to the first but feels a little longer and faster. If you feel confident have a little look to the left and right and you'll be blown away by the views beneath you. I have to say I've been told that. I don't KNOW that. My head faced firmly forward the entire time.
Now. A little word of warning. Stopping at the end of the second zipwire is probably the scariest part of the whole activity. You shoot through a lock system and then come backwards along the wire to stop. It's quite sudden and you do feel like you're not going to stop in time, but just go with it and you'll be fine. This is what I told myself anyway. This is also the point at which they decide to take a photo of you, so smile if you can.
You then get un-clipped and your 15 minute adventure is over. I have to say, it's one of the most fun and exhilarating things I've done. You feel like you're flying and it's a magical way to enjoy your surroundings. We decided to then walk back down to the Lindarets bowl which added to the experience. It's a beautiful hike from the Col de Bassachaux down a wildlife trail to the base of the Cheux Fleurie lift but if you'd prefer to hop back on the lift you can do that instead. It's a gentle amble from the second zipwire back to the base of the lifts. Just make sure you've got plenty of time as the lifts close at around 5.30pm.
Location