What's new this winter in Morzine
From the ski area to what's fresh in resort
As winter takes hold in Morzine we take a look at what's new in town and on the slopes.
Early signs of snowfall here in The Alps are creating much excitement for the upcoming winter season. The ski industry here is raring to go and this winter looks like being an exceptionally busy one. Morzine-Les Gets ski area opens on the 17th December and ski passes are on sale.
Having moved on from COVID, the good news is that the ski resorts are all going to be operating normally this winter, however the thing that may be on most people's minds is the current energy crisis. We have been following news from the ski resorts and whilst they are awaiting an update and directive from the government, the resorts, in the main, assure us that ski lifts will be running and the ski pass prices that have been published will remain in place. This current energy crisis is offering the resorts an opportunity to fast track many of their eco/environmental sustainable initiatives for example LED lighting, optimising the speed of ski lifts, the addition of GPS systems in the snow groomers for added efficiency.
Currently there are no COVID restrictions or regulations in place anywhere in France. Take a look at our COVID information page for the latest updates. (no longer being updated regularly)
Winter tyres
A reminder that it is now mandatory from 1st November to 31st March to have winter tyres (M&S marking, or all weather (4 season) tyres), OR at least two snow chains/socks in the vehicle when driving in the mountain regions in France, following a law introduced from November 2021.
Watch this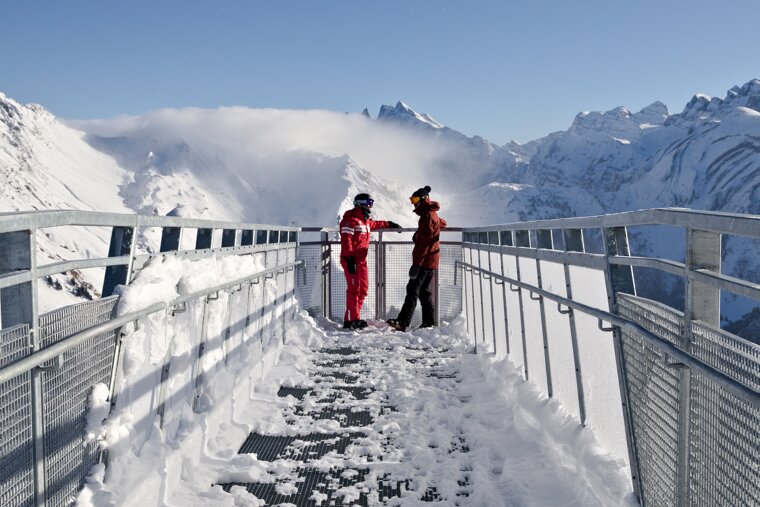 On the slopes
In the Nyon ski area a monumental sculpture of an eagle with a deer in its claws was installed during the summer of 2022 at the base of Le Pas de l'Aigle (The Eagle's Step) the recently installed and very popular glass walkway.
The remodelled Eagle Park Snow Park and the new XL Border Cross zone that are accessible from Les Raverettes chairlift.
Sustainable ski pass
New wooden ski pass for Les Gets, a great green initiative from Les Gets with the introduction of wooden ski passes for this winter in favour of responsible tourism and endeavouring to reduce plastic consumption. Over 40,000 passes are issued a year to ski lift users.
Call of nature at altitude
Solar panel powered ecological toilets have been installed at the summit of the Pointe de Nyon.
Pure exhilaration
New route of 1000m pure descent starts from the summit of Nyon and heads straight down to the Nyon car park, no stopping no lifts! This is one of the largest descents in the Portes du Soleil.
Respecting the environment
To help reduce the amount of artificial snow produced, the snowpark modules are shaped out of earth, this is part of the Flocon Vert label awarded to Morzine in 2021 to respect the environment.
In addition to this, another sustainability investment in Morzine has been replacing the fleet of 9 piste bashers with Snowsat machines. The resort continues to provide training in efficient driving and usage to remain environmentally friendly.
Kids and Families
Kids parks get a makeover
The recreational and beginner areas of the Morzine ski area have had a great makeover making them more educational and fun. Pinguin Park has been transformed with an innovative infrastructure. Totem poles, arches and a giant xylophone are just a few of the things to look out for as the youngsters ski through.
On the Chemin des Zouzous zou will now see statues of mountain animals and information panels all along the route all designed to create a better learning experience.
Pedestrian Zone
The Place de l'Office de Tourisme will be completely pedestrianised this winter.
A nod to Harry Potter fans
The refurbished and renamed magic carpet at l'Aiglon is now called La Chouette in homage to Hedwig, the owl of Harry Potter fame.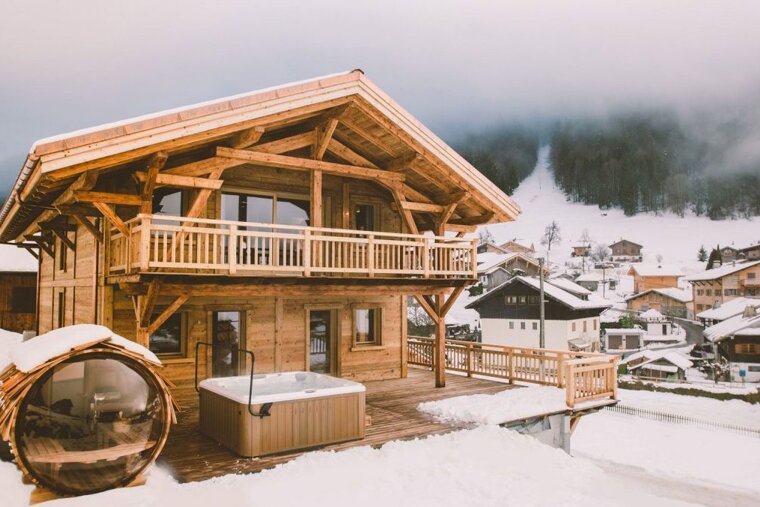 Chalets & Apartments
Chalet Doyen has a gorgeous new swimming pool ready for winter! It's one of Treeline Chalets most stand out chalets and one of the most beautiful in Morzine. Now it's even better... Summer 22 saw extensive landscaping works at our Chalet Doyen to create a stunning outdoor pool, sunken hot tub & outdoor kitchen alongside the fish eye barrel sauna. The swimming pool is heated and available for use summer & winter with variable depth floor and resistance flow trainer.
See more details for Chalet Doyen here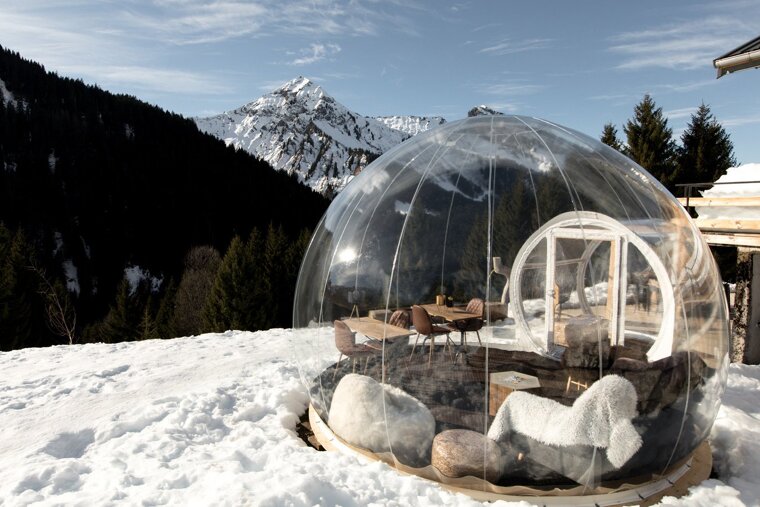 Restaurants
Dine in a bubble
New for this winter, discover the Resto des Bulles near Lac Mines d'Or and enjoy lunch in a bubble while taking in the breathtaking panoramic views in the mountains. Dine on Savoyard favourites; fondue, raclette, pierrade chaude, all prepared using local produce. A fun tasty experience. Open for lunch only from December to mid-April.
Michelin Pop Up
Michael O'Hare the one star Michelin chef will be hosting a special pop up week in Morzine, the first week of January. Michelin-starred chefs from the UK and Europe will be in the resort creating fabulous dishes.
Treeline Chalets will also be hosting a pop-up in March for 4-5 weeks.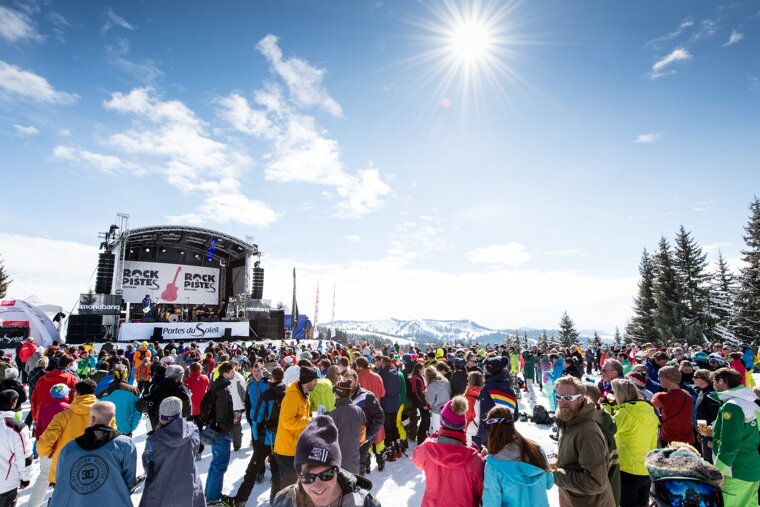 Events
You'll find many highlights in the winter events calendar for Morzine including the major music festivals; Rock On Snow, Rock The Pistes, Snowcase and Snowboxx. Well-being weeks, Spartan Races and comedy are just part of the diverse line up. Full event details can be found in our events calendar
More inspiration...
A handful of improvements set to make life even better in and around the vibrant little town that is Morzine. Nestled in the heart of Les Portes du Soleil, this area can become an absolute paradise when the weather systems align – something we'll all be paying an increasing amount of attention to over the coming weeks. See you soon!