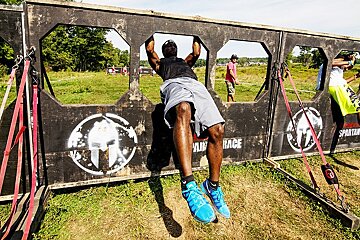 Spartan Trifecta Weekend
The Spartan Ultra World Championship and Spartan Beast, Sprint and Super over challenging obstacle courses
The world's leading obstacle race company brings it's competition to Morzine over one weekend, with races over 5km, 13km, 21km and 50km.
The Spartan Ultra World Championship takes place on Friday 5 July, spaces are limited to 500. Priority will be given to athletes finishing a Spartan Ultra in 2023.
Only those registered in the Elite and Age Group categories will be included in the World Championship rankings.
The other Spartan races take place on the Saturday and Sunday.
Spartan has a mission: To deconstruct modern-day comforts by tapping into an ancient methodology built on doing hard stuff. Franchised in over 30 countries across the world, its series of obstacle races vary in distance and difficulty ranging from three miles to marathons.
Watch this
Venue
Route of the Palais des Sports, Morzine
What to see
The obstacles that competitors must face varies from event to event, but frequently can include a fire jump, climbing under barbed wire, wall climbing, mud crawling, 'over-under-through', spear throw, rope climber, heavy object carry, monkey bars and more. And on top of all this 'fun', failure to fully complete any of the obstacles can result in a penalty in the form of a certain number of burpees that competitors must complete before moving on.
If this sounds like your idea of a good day out, entry is via their website, or you can just go and watch those crazy enough to put themselves through it.
Spartan Weekend Races

Race
Distance & Obstacles
Notes
Sprint
5km - 20 obstacles
Puts endurance aside and tests your speed through a relatively easy trail running course loaded with obstacles. A great starter distance for beginners, or a perfect race against time for the more advanced. Terrain will feature water and mud.
Super
10km - 25 obstacles
Considered a middle-distance race, it is as much a mental as it is physical race. Built to keep you guessing, testing athleticism and mental fortitude over rugged terrain.
Beast
21km - 30 obstacles
A gruelling half-marathon littered with obstacles to push your comfort zone and take you to the limit as you race through unpredictable terrain. Part of the France National Series.
Ultra Beast
50km - 60 obstacles
This is the longest and most difficult race out of the four and is aptly named for its brutal circuit that tries to keep you from your finish line. Fastest time will be around six hours, longest 12h plus.
HH12HR
NA
A standalone event with mental challenges, nonlinear problem solving, morality, teamwork and individual performance all tested whilst under physical duress.
Spartan Kids
800m - 3.2km
Specifically designed for kids to run, jump and smash their way through obstacles just like the adults.
Distance: 800m - Ages: 4-6 years, 1.6km - Ages: 7-9 years, 3.2km - Ages: 10-15 years.
History
The Spartan Race began as a spin-off of the 'Death Race', a 48-hour endurance event. It was intended to be a more accessible endurance race to attract a wider audience.
The first race was held in 2010 in Vermont, where roughly 500 competitors had to run, crawl, jump and swim and overcome a series of obstacles.
In 2013 Reebok became the event title sponsor and since 2015 it inspired a Spartan-based television series in the USA.
Location