Why intermediate skiers love Morzine
Banish any winter blues while cruising the intermediate runs
The Portes du Soleil is a haven for skiers of all abilities, but it's especially good for intermediate skiers looking to improve their skills on blue runs. Across the 600km of pisted skiing in the region there are 119 blue runs to explore, so you'll flip from novice to expert in no time.
We've been cruising the blue runs to find you some itineraries that are perfect for your ski holiday. We'll even throw in the odd coffee break to keep you energised.
Morzine
If you've purchased a Morzine/Les Gets lift pass, then here are some of the best blue runs to keep you busy.
Take the Pleney bubble to the top of the mountain and start your day with a gentle descent down Piste B that is perfect for a warm up. This popular run is tree lined, so ideal when the weather isn't that great. It varies in difficulty from top to bottom, so brings challenges to keep you on your toes. There are also lots of opportunities for jumps and off piste fun if you have more accomplished skiers with you. This run meanders all the way back down to the base of the Pleney, so is a great starting run to tackle before heading further afield. When you feel ready you can head towards Les Gets or to Morzine's hidden gem, The Nyon plateau.
From the top of The Pleney you can easily get to the Nyon plateau by following a few steady blues. Hop onto the Belvedere Express chairlift and then follow the blue run called Granges down to The Troncs Express. Before you know it you'll be on top of the world in one of the most stunning and untouched parts of the Portes du Soleil. Once you get to the plateau, there's a fantastic blue run which is perfect to help you find your feet. This is also the perfect place to stop for your first coffee of the day, the café here has a brilliant terrace overlooking the mountains with some comfy deck chairs to help you refuel.
From here you can either head back down to the base of the Pleney (if you've had enough) or head even further afield to explore some of the amazing blue runs in Les Gets. To go home, follow the Retour des Nants.
Les Gets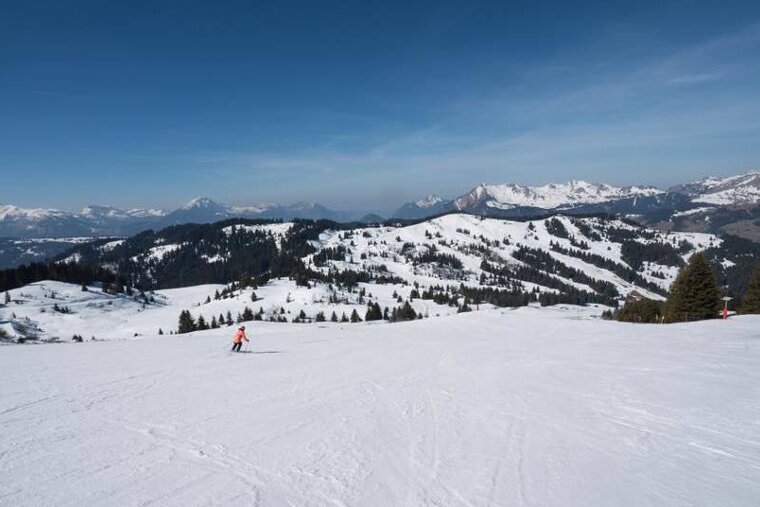 If you've decided to go on to Les Gets then you need to head back to the base of the Troncs Express. You then take the long Charniaz chairlift into the amazing Ranfoilly Bowl. This spectacular part of the region has a fantastic selection of cruisy blues to choose from, and you could easily spend a day here exploring everything it has to offer. Start by winding into the centre of the bowl to take the Rosta chair to the opposite peak. From here you've got a couple of blues to choose from to take you back down into the bowl. The runs here are wide and relatively straight, so great for getting up a bit of speed to practise your technique. The Ranfoilly bowl is also amazing on powder days, where it's full to busting with pockets of powder fields all over the place for you to dabble in. Great for some practise of off piste without going too far from the safety of the tracked out routes.

Once you've explored all that the Ranfoilly Bowl has to offer, then you could head further into Les Gets and explore the Chavannes area. This is a popular beginners spot thanks to a wide variety of blue runs to choose from. You can easily spend an afternoon lapping this part of the resort without getting bored. The children will also love it as it's home to the fantastic Indian Village kid's run. It's an easy blue run with obstacles for the children to tackle. They'll want to try it time and time again.
There are a couple of delicious lunch stop offs here too, we're thinking hearty soups, wraps and salads with delicious cakes and other snacks.
Super Morzine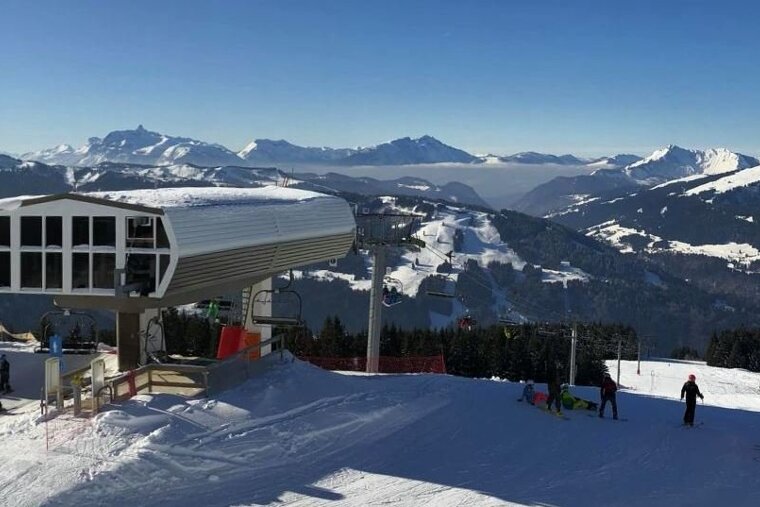 If you've purchased a full area lift pass and will be exploring the whole of the Portes du Soleil, then read on. Your journey round the blues of this amazing place, has only just begun.
The Super Morzine mountain is on the opposite side of the valley to the Pleney and boasts some of the most spectacular views of the region, especially on blue sky days. It's a great access point to Avoriaz but also has some fantastic skiing of its own. It's a relatively quiet area with some brilliant tree lined off piste runs, which are great if you're not that confident skiing in powder.
Head to the top of Zore and enjoy cruising down this wide blue with views of the whole of the Portes du Soleil in front of you. If you feel brave, practise jumping into the powder off the edge of the piste. There are several great stop-off bars and cafes on Super M with views a plenty, so why wait for that much needed half-time pint.
Avoriaz
Purchasing a full area pass means you have the whole of Avoriaz to explore as well as Morzine and Les Gets, so if you're only here for a week, you're going to be very busy. We've picked the blue runs you can't afford to miss while you're here.
The Lindarets Bowl has something for everyone with snowparks and an eclectic mix of greens, blues and reds, but the not-to-be-missed run in this sector is Prolays. This fantastic run has something for every ability, offering off piste fun for the more advanced and a wide, rolling piste for the intermediate skier. You'll often see people lapping Prolays time and time again because it never gets boring. It's also relatively sheltered, so you can head here on the worst days and still have a great time.
Heading out the other side of Avoriaz village and towards the Swiss wall you'll find a number of slightly more challenging blues, but nothing you can't handle. If you take the Lac Interets lift up to the top of the Arare, you will enjoy some of the most spectacular views yet. This could also well be your highest point so far, meaning you'll be stunned by what greets you. The blue runs down from the Arare are quite open to the elements, so best to be avoided if the weather is particularly harsh, but on fair weather days they can't be beaten.
Similarly, there are some brilliant blue runs curving back down from the top of Fornet. These runs don't lend themselves to powder and are usually very tracked out, which means they are great for hitching up some speed and practising your pace technique. They offer fantastic views into France and Switzerland and are a must try before your holiday is over.
There are no end of fantastic restaurants to choose from in this part of Avoriaz. However, if you find yourself in this part of the Portes du Soleil at après time, why not give the Folie Douce a whirl. After all the skiing you've done, we think you deserve a bit of a party.
Location
Morzine, Morzine