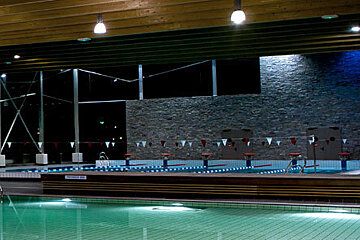 Indoor activities in Morzine
Discover the top Morzine indoor activities
Whatever you choose to do on your holiday, you are sure to find a huge range of indoor activities across the Portes du Soleil & Morzine area. From relaxing activities to sports, there is something for everyone, every ability and every age in Morzine. Check out the selection of things to do below for some holiday inspiration!

Cinema
Catch the latest films and releases in Morzine on your winter or summer holiday. Some cinemas open their doors early on a bad weather day, otherwise you'll find most screenings in the evenings. Look out for VOST for English speaking films.
Culture and guided tours in Morzine
If you fancy a free, educational activity, why not try a lesson in Cheese making at the central Morzine cheese shop? La Fruitiere L'Alpage (which is close to the Ferme De La Fruitiere restaurant) offers free tours of its cheese cellar on Wednesday's at 09:00. You'll learn about how all the popular Savoyard cheeses are made, whilst also tasting a few!
Fitness and swimming in Morzine
There is a fully-equipped gym at the Mountain Rehab facilities in L'Aiglon, where they also offer fitness classes.
Ice-skating / Hockey
Go to the ice-skating rink in Morzine for fun loops with friends and family. With a refreshment bar, music and lighting you can enjoy the indoor ice skating rink at Parc des Dereches all year round. Open during the day and with night sessions from 09:00 - 23:00 on Tuesday and Thursday, although be warned these are sometimes postponed due to hockey matches or special events.
Indoor activities in Morzine
There are bowling alleys in Morzine, Les Gets & Avoriaz to keep you entertained on bad weather days, or if you're looking for something to do with a group or non-skiers.
Shopping
Many people would not automatically think of Morzine as a place to shop, however, the town boasts some great stores. As you would expect from an outdoor sports resort, there are plenty sports stores where you can get your hands on some of the top mountaineering, ski and snowboard brands but there are also some fashionable clothing stores, and plenty of shops selling traditional mountain goods.
Spas and massages in Morzine
If it is calm and relaxation you are after then head to a luxury day spa or book in for massage therapies and beauty treatments. A day spa is also the perfect activity when the weather turns. You can keep warm and revive aching muscles in saunas, steam rooms and jacuzzis or take a refreshing dip in a swimming pool. Unwind, relax and indulge.
Squash
There are also a number of places where you can play squash whilst you're in Morzine either during winter or summer. Normally located in the main sports centre, you should be able to rent all you need on site. Alternatively some of the hotels or spas have their own squash courts too.
Swimming
Indoor swimming can be great fun for all the family and in Morzine & Avoriaz and you have the choice of a few swimming pools to go to. In Morzine, head to Parc des Dereches where you can enjoy the indoor pool and paddling pool all year round. In Avoriaz the 'Aquariaz' centre is an aquatic paradise offering a huge water park made up of a gentle flowing indoor river, a slidewinder (an aquatic halfpipe), a toddlers paddling pool & water playhouse, a large pool with natural climbing walls.