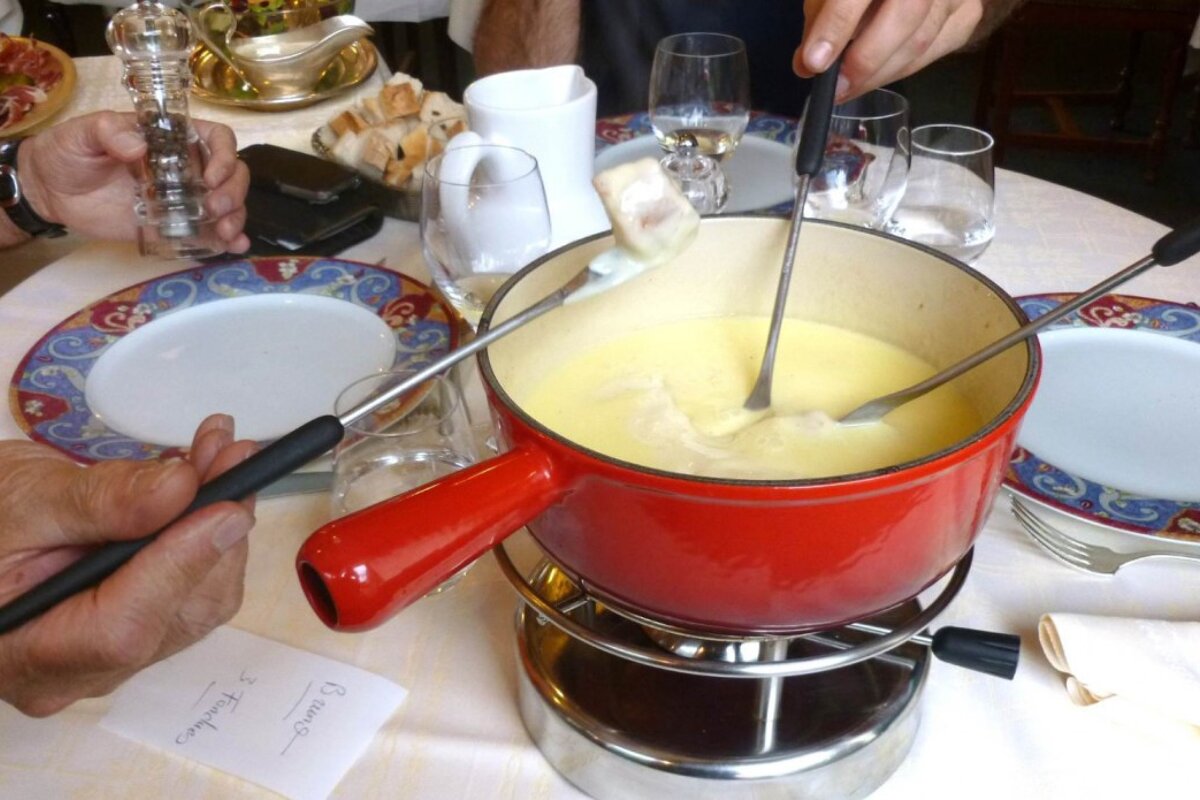 Best fondue in Morzine
The best thing about a ski holiday after... skiing
We've been searching for the best fondues in Morzine and have come up with a delicious list for you to try!
The smell of cheese forms part of the Morzine landscape. It seeps out of the doors of restaurants and shops around town, tempting us all in to test out the traditional Savoyard delicacies on offer. From tartiflette to fondues and raclettes to Savoyard platters, there's something for every cheese lover. However, there's no doubt that fondues remain at the top of the favourites list. How do you take yours? With mushrooms? With a delicious plate of cured meat? Or do you like yours plain, with simple locally produced cheese? Whichever way you take it, we've been testing restaurants across Morzine over the past few years to find you the best fondues in resort.
La Flamme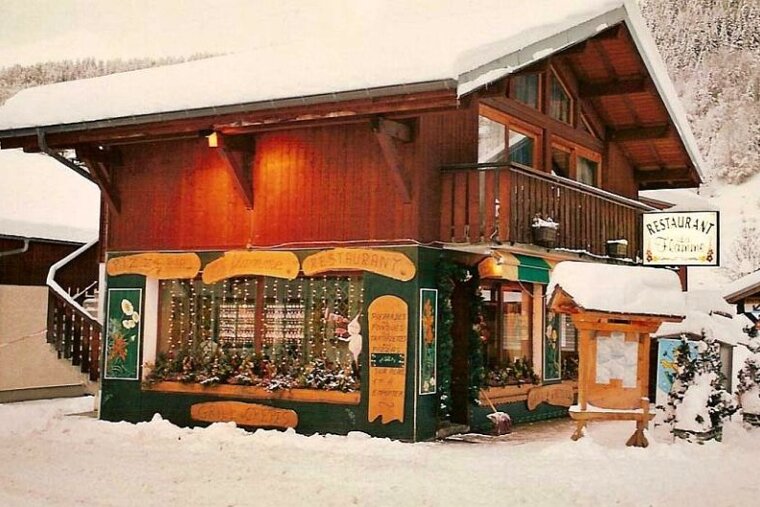 Without a doubt, the fondue at La Flamme, is up there with the best. The family-run restaurant at the base of the Super Morzine telecabine is a no fuss, friendly spot with a delicious menu. It's reasonably priced and has a great atmosphere. The fondue comes with or without mushrooms and a great supply of potatoes and bread for dipping. You can also add a plate of cured sausage if you need your meat fix. Alongside the traditional dishes there's also a range of pizzas and salads for those who might be feeling "cheesed out".
La Chamade
The Chamade is a specialist cheese shop and restaurant in the centre of Morzine so you'd be right to expect it to do a decent fondue. This is a relatively upmarket restaurant so prices are a little higher. However, you won't be disappointed. Again it offers a range of different accompaniments to go with your fondue. You can expect the cheese to be locally sourced and the wine list is also extensive. Pop downstairs at the Chamade and have a look at their in-house cheese shop. This amazing spectacle comes complete with fountains and crazy decor to feast your eyes on. It's not just a good meal, it's an experience!
L'Etale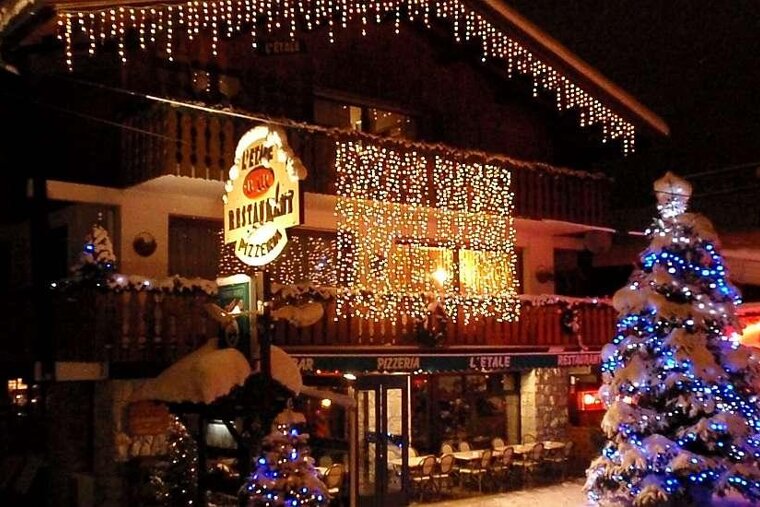 If you're looking for something a little more down to earth and with a bit of a livelier atmosphere for your fondue extravaganza then look no further than L'Etale. This popular restaurant, run by Vincent and his team, is often completely booked up, which says a lot about the standard of food they serve. Alongside the fantastic fondue, there's an eclectic mix of dishes on offer ranging from pizzas and pasta to salads and other Savoyard specialities. The puddings at L'Etale are also extra special. Make sure you reserve a table at this central Morzine restaurant or you may leave disappointed.
La Rotonde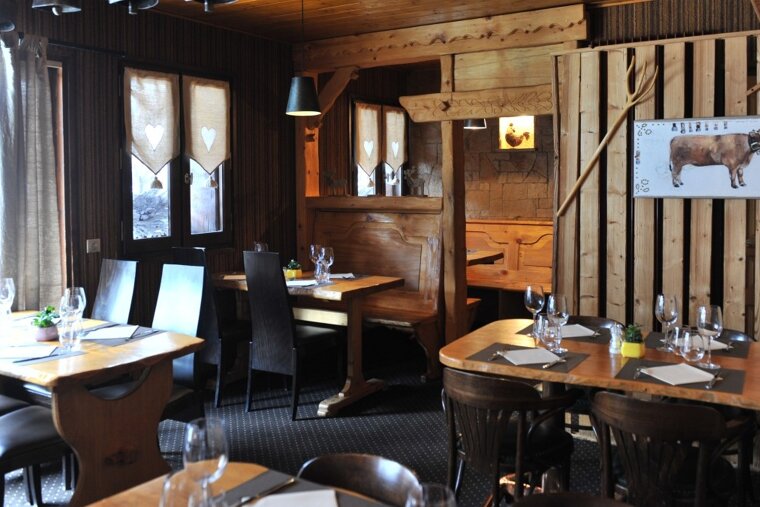 The Rotonde is the sister restaurant to L'Etale so you'd expect it to be good. And you wouldn't be wrong! This stunning restaurant is a bit more upmarket than its counterpart and the prices are a little steeper but, in this restaurant's case, you get what you pay for. The high standard of food and adventurous cooking is well worth trying. If you're a meat fan then their incredible hanging meat dish is massively popular. The fondue is also legendary. Their beautiful terrace makes it well worth visiting in the summer as well as the winter and people often return again and again.
Le Grillon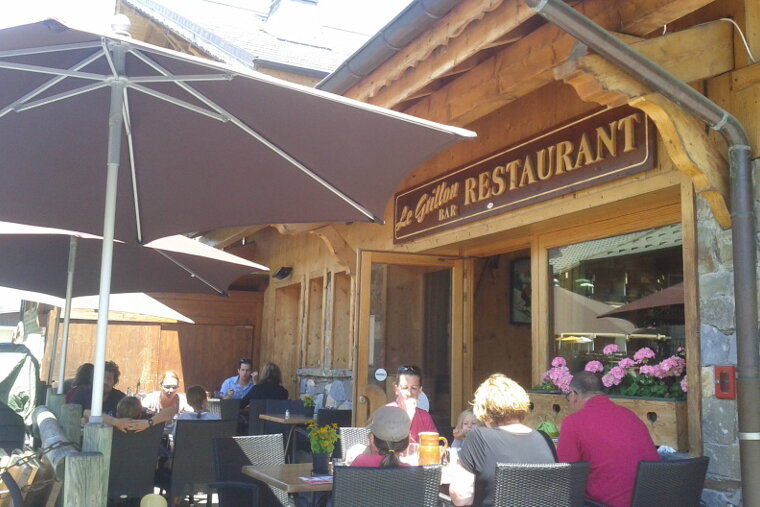 Le Grillon in the centre of Morzine is probably the most traditional of our selection. With a mainly Savoyard menu and all the specialities you'd expect from a Morzine restaurant it's a delicious, reasonably-priced option. We couldn't help but stare at the amazing raclettes and tartiflettes that came out of the kitchen as we sat under the low wooden beams of the alpine restaurant - they looked fantastic. Just as fantastic as their fondue!
Le Vaffieu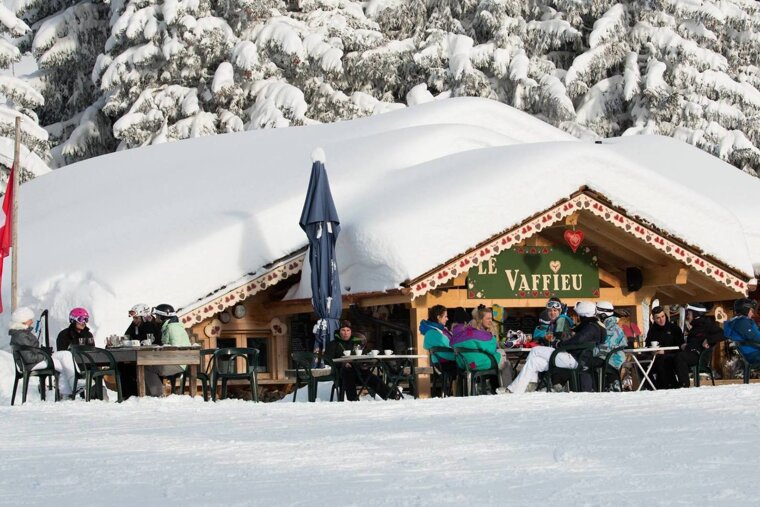 This little gem, at the top of the Pleney is a "not to be missed" visit. With incredible views of Mont Blanc and a menu to match, Le Vaffieu is a stunning lunchtime stop off. The decor inside the restaurant is also spectacular. It's traditionally alpine and very kitsch with models, pictures and other decorations that also make it a fun place to head to with the whole family. With a fantastic outside terrace that is perfect for sunny days and a snuggly indoor area that's perfect for the rainy days it really is well worth a visit. Their fondue is extra special as well, and reasonably priced, especially for its idyllic location.
Pointe de Nyon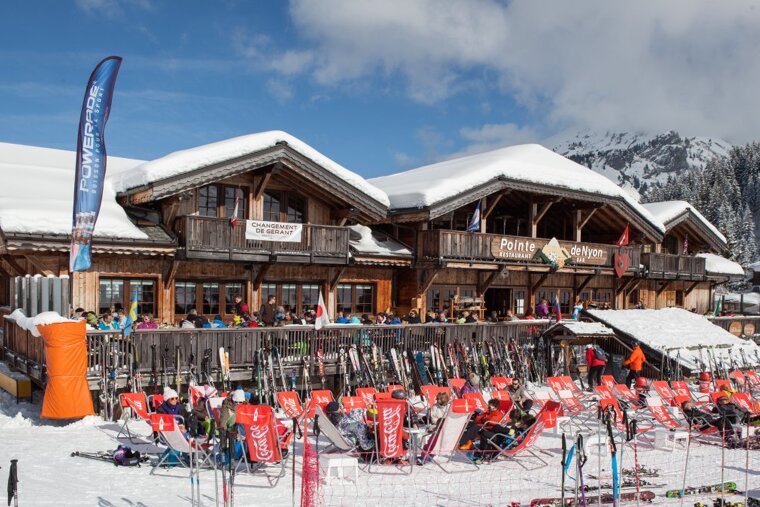 If you like a view with your fondue then you'll love La Pointe de Nyon in the Nyon bowl. With views of Morzine and Avoriaz spreading out in front of you while you eat it really is an incredible setting with a menu to match. Its selection of burgers and salads are delicious as is the fondue and other cheesy delicacies on offer. We've spent many a long afternoon at this restaurant with its welcoming staff and panoramic views - coupled with a taste from its wide-reaching menu, you won't regret making the trip to this mountain treasure.
If you manage to try just one of these amazing fondues whilst you're on holiday then you'll leave knowing exactly what a good fondue should be like. We've tried loads to find our favourites and these are just some of them. Be warned though... Try more than one and you'll certainly feel a little full!
Location
Morzine, Morzine