Why book a family ski holiday in Morzine
Bring your children on a ski holiday to Morzine
Here's why we recommend Morzine as a family destination.
Travelling anywhere with children can be challenging, and in a ski resort it can be doubly so with things like lift passes, equipment hire and ski lessons to arrange (never mind hats, gloves, snotty noses and the rest...!). Morzine is a family-friendly resort that makes all these things as easy as possible.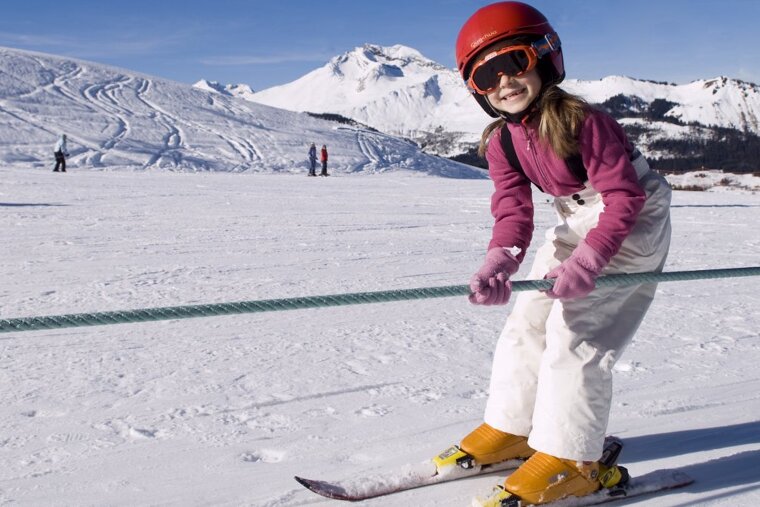 Top 10 reasons to visit Morzine as a family
1. The 'Famille Plus' scheme
The resort has worked hard to become a part of this officially recognised scheme, bestowed only on those resorts and destinations that go out of their way to cater to families and children. They provide activities, services, entertainment and prices throughout resort favourable to those holidaying with kids in tow.
2. Ski area & lift passes
There are lots of beginner areas around the lower slopes in each resort, easily accessed and some not requiring a pass, so it's easy to practice with the kids. There's fun areas and snow parks for children of all ages to learn and increase their confidence, whilst joining in some of the activities like face painting. Plus Morzine offers favourable lift pass prices to families, making valuable savings.
3. Great ski schools
The tuition available in Morzine is truly brilliant. You'll find ski schools offer lessons for little ones, along with fun zoned areas for them to learn whilst they play in safety.
4. Short transfer times
When travelling with children, short transfers to resort are a must and Morzine has good transport links to the main airports. Geneva airport is the closest major airport, at just over an hour away.
5. Easy to get around resort
Morzine operates a great free bus service connecting the different areas, running every day throughout the winter season. Les Gets has its own free shuttle service and also a door to door night shuttle operating every evening.
6. Child-friendly accommodation
The choice of hotels and rental accommodation in Morzine is constantly improving. Establishments are opening or being renovated every year, offering top quality accommodation with services for families.
7. Modern leisure centre
On the days you don't want to ski, head to the swimming pool in Morzine with its kids splash pool and 25m swimming pool, or Aquariaz in Avoriaz which has rapids, slides, and an outdoor hot tub - always a favourite with kids that need to burn off some steam on a bad weather day.
8. Fun on the hill
Sledging is a great activity for the whole family and there are a number of perfect places for you to head to give it a go in both Morzine and Les Gets. If your children are quite young, there's a dedicated sledging slope at the base of the Chavannes in Les Gets. Those that are a little older and perhaps a little more daring will need somewhere that's a bit steeper. If you head to the Aubergade Hotel in Morzine, at the base of the Pleney, you'll find families using the steep bank for sledging and enjoying some food and drink at the same time. It's a firm favourite with families.
9. Family-friendly restaurants
Most restaurants around resort are child-friendly and will have a children's menu, early sittings, high chairs etc and families are always made welcome. The Alpen Roc has an extensive children's menu which is a mix of French specialities and the classic burgers, chips, nuggets and pasta.
10. Family activities
Morzine prides itself on offering families a whole host of activities away from the slopes. If you fancy a break from skiing but want to keep up the winter feel to your holiday, then you'll probably enjoy visiting one of the many ice rinks around Morzine and Les Gets. In Morzine, you're spoiled for choice, with two rinks open most afternoons that have stability penguins and other aids for children. In Les Gets you'll find a small rink, with spectacular views just outside the tourist office square. All are fully equipped for children to have some fun on the ice. Alongside these ice rinks there are also carousels and activities going on in the main squares of the resorts throughout the season. Think cheese rolling, quidditch games and large skittles to name a few!
More inspiration...
Morzine's reputation as one of the world's top family ski resorts has been many years in the making and is constantly being improved. There really is no better resort for a family ski holiday, so come visit us and see for yourselves.