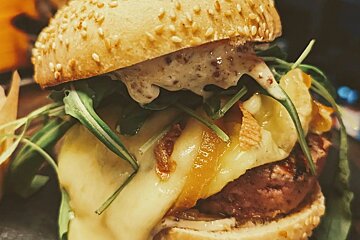 Best burgers in Morzine
We've done the testing so you don't have to
There's a burger for everyone here, whether you want the biggest, best or veggie option
Burgers in Morzine can be something very special. We're not talking about your standard thin piece of meat sandwiched between two pieces of slightly cardboardy white bread here. a Morzine burger is much more than that
You'll find burgers that come complete with delicious local cheeses melted to perfection, burgers piled high with salad, and burgers in delicious freshly baked French bread. You'll even find fantastic options for the non-meat eaters. There are restaurants all over Morzine trying to outdo each other for the title of best burger in town, and we've spent a good few years testing them to bring you a list of our favourites. It's been tough, but someone's gotta do it.
Best value burgers
O'Chalet
You can't come to Morzine and miss out on a chance to visit O'Chalet in the centre of town. This popular joint falls somewhere between a fast food bar, a restaurant and a cantine. The staff are incredibly friendly and the food is just as fantastic. There's an eclectic mix on the menu from burgers to crepes and salads, panini and wraps. Their curly fries are legendary, and the prices are pretty good for what you get. The burgers are massive, well cooked, and there's a fantastic choice.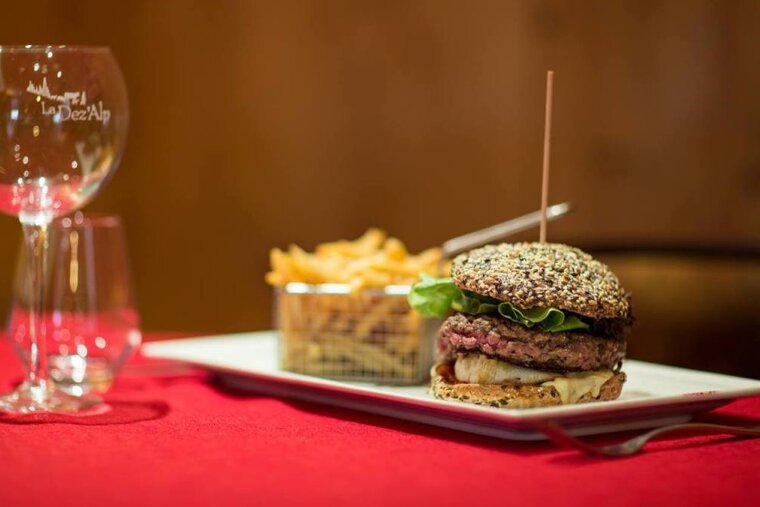 Biggest burgers
La Dez'Alp
This fantastic restaurant on the Rue du Bourg in Morzine is tucked away from the main street with fantastic views of the mountains from its huge bay windows. It's much fancier than you'd expect from the outside, and its burgers are pretty much to die for. They're the type of burgers that are so big and steaky, you have to decide how you want them cooked. They're basically huge pieces of steak sandwiched in between delicious grainy bread with a side order of crispy fries. The burger menu even boasts a surprise vegan addition, meaning everyone can enjoy a visit to this fab restaurant. Prices sit around the €16 mark, and you can choose from a cheeseburger, fish burger, foie gras burger or a chicken burger. It's a firm favourite after a hard day on the mountain.
Le Pointe de Nyon
This restaurant is a not to be missed burger sensation. Mainly because of one specific choice on the menu. Friends of mine make special trips to this mountain-top restaurant just to sample its famous Savoyard burger. This cheesy double burger is very popular, but not cheap. If you're looking for a taste sensation and don't mind splashing the cash a bit, then you should definitely stop by the Nyon plateau. It's a busy venue with incredible views and lots more delicious food on the menu.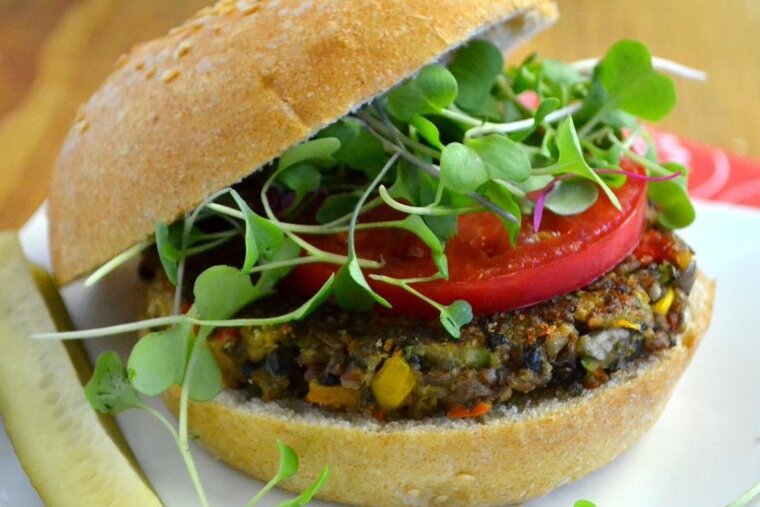 Best veggie options
Finding a good veggie burger in Morzine can be tricky, but more and more places are starting to accommodate the non-meat eaters amongst us.
Bec Jaune
The Bec's menu is getting more and more veggie-friendly by the season. They offer a great vegan bean burger, and their pulled aubergine buns are just delicious. It's really worth heading to the Bec if you've got a veggie in your party, and meat eaters won't be disappointed either.
Le Boomerang in Les Gets
Le Boomerang in Les Gets is brought to you by the same people behind Mamma's, so it's no surprise that it's good. There's a wide selection on the menu for veggies, and the burgers there are delicious. If you've got people who don't fancy burgers amongst you, then there's a whole host of other world foods to choose from.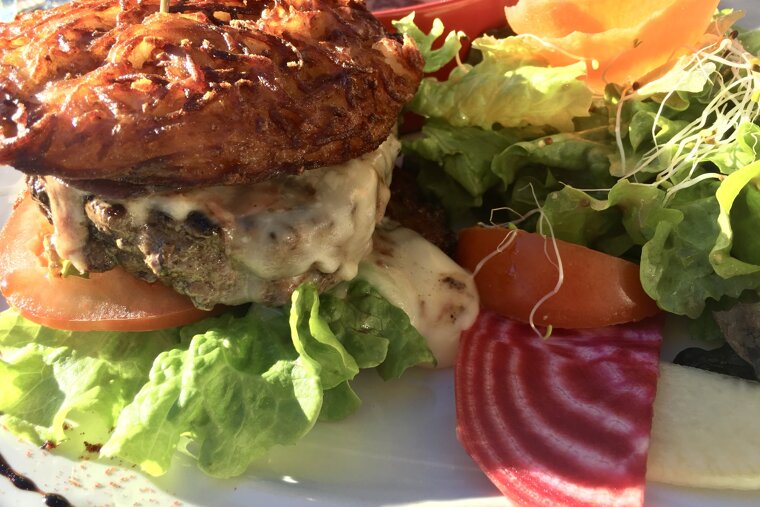 Burgers on the mountain
Changabang
If you head up to Avoriaz, make sure you pay this little gem a visit. Changabang is a fast food cantine, but its burgers and curly fries form part of a ski holiday landscape. It's often busy in the little place at the top of the Prodains telecabine, so be prepared to queue and possibly enjoy your food standing up. However, once you've had a portion of those famous fries, you won't be thinking about seating. The staff are super friendly at Changabang and there's a happy "hands to the pump" type vibe. Well worth a visit.
Happy Hours
This popular apres bar is also one of our favourite lunch stops, and I'm told in no uncertain terms that their burgers are some of the best in town. A quote from a man who loves the: "there's an amazing choice, the burgers are served with delicious extras, the burgers are succulent, tasty and juicy and I just love them". Fair enough. This lively venue is right at the bottom of the Ardent telecabine, so great at the start or the end of the day, and they have some great non-burger choices on the menu too, as well as plenty for veggies.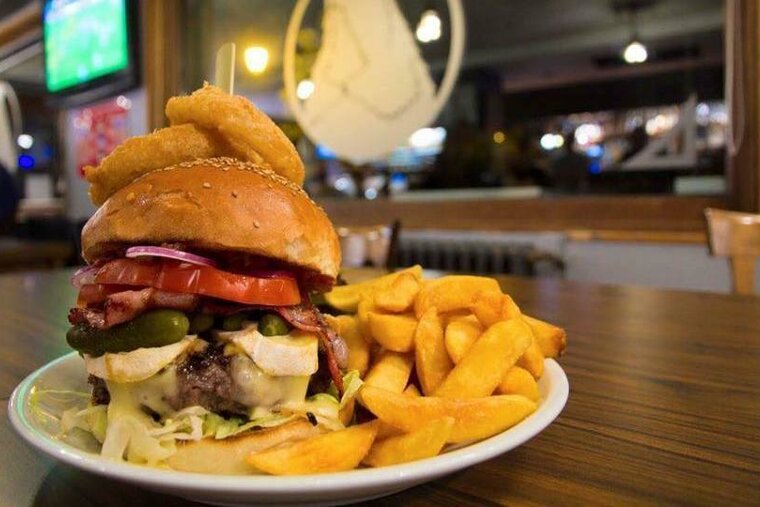 Our favourite burgers
Marmotte d'Or
This traditional tabac-style bar in Montriond is one of our favourite spots to grab a burger. It's neither in town or on the mountain, but well worth making a trip to as their burgers are some of the best in the area. It's a really friendly bar, and the staff go out of their way to make you feel welcome. The menu is always changing and developing, and the food is always great. The burger selection includes a lot of options with delicious local cheeses like reblochon and blue cheese. There's also a delicious veggie option and a very popular brunch burger. You can also head to the Marmotte for one of their popular live music nights too, but be warned; it gets super busy and crowded. It's a great night out though, and the food makes it even better.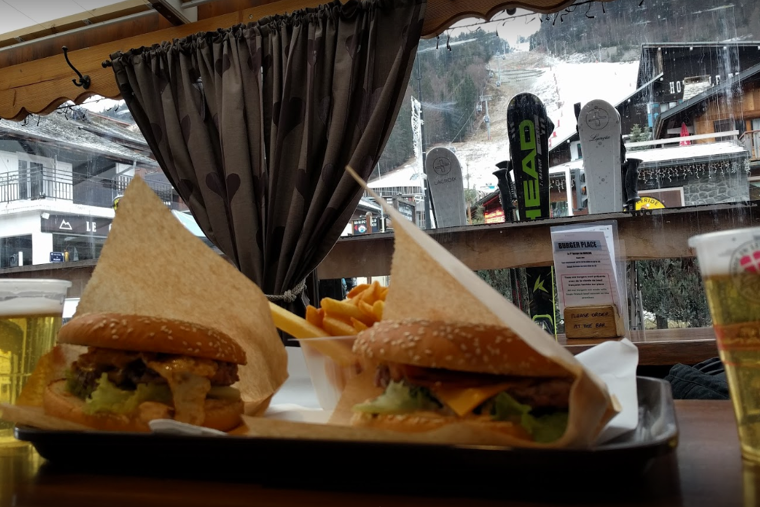 Our hidden gem
We can't talk about burgers and not mention the little shack at the bottom of the Penguin park on the Pleney. However, we've decided to call it Pascal's after the happy, welcoming owner who, quote, "cooks the best burgers in Morzine". It's a no-frills restaurant but the burgers are fantastic. They come accompanied with free shots of rum, a lively atmosphere, and a just as tempting price bracket. My friends have visited the shack time and time again and say the burgers are simply fantastic. Make sure you search out Pascal and enjoy some of his hospitality.