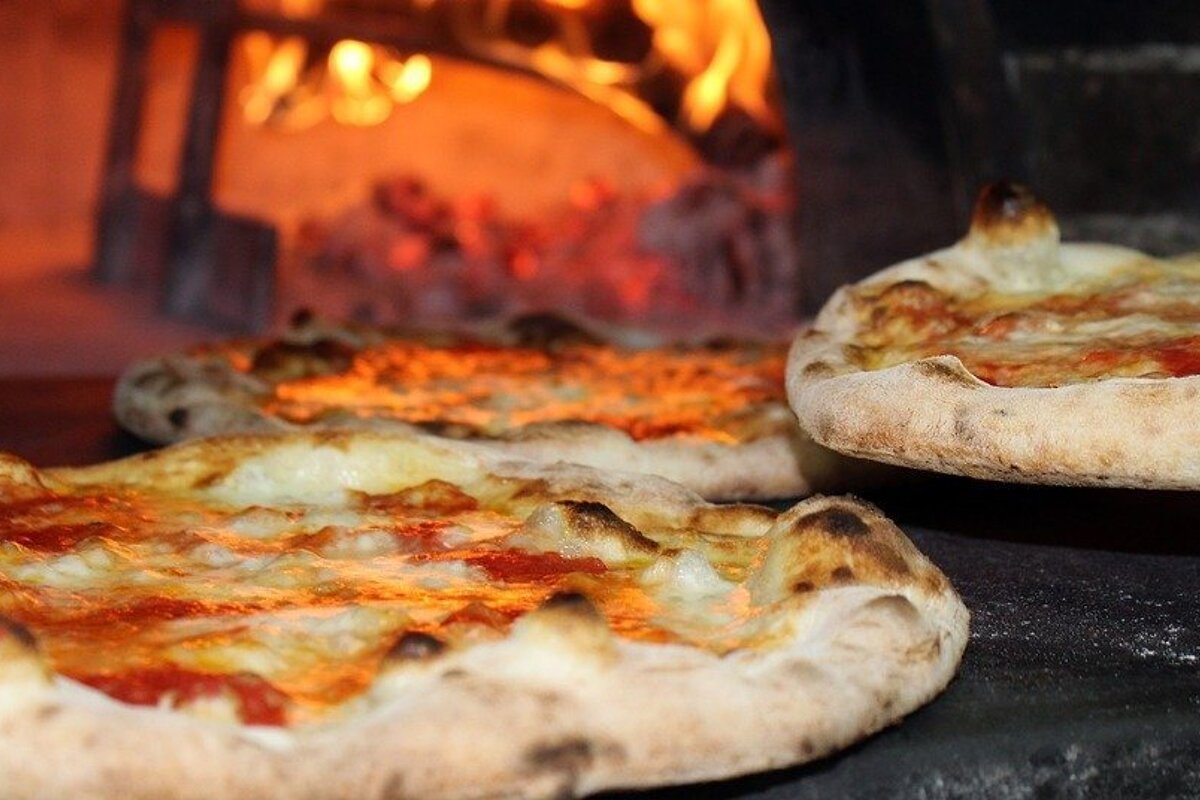 Best pizzas in Morzine
Making it easy to pick a pizza here in Morzine.
It's not difficult to find a pizza in Morzine, as most restaurants have a selection on their menu. However, without eating pizza for breakfast, lunch and dinner, you're never going to know where to go to find the best ones.
That's where we come in. We've been munching on pizzas for the last few years to bring you our top places to head to for the Italian delicacy in Morzine this season. We've got you covered for all budgets, flavours and atmospheres, meaning you can really enjoy your pizza experience when here on holiday.
Best takeaway pizza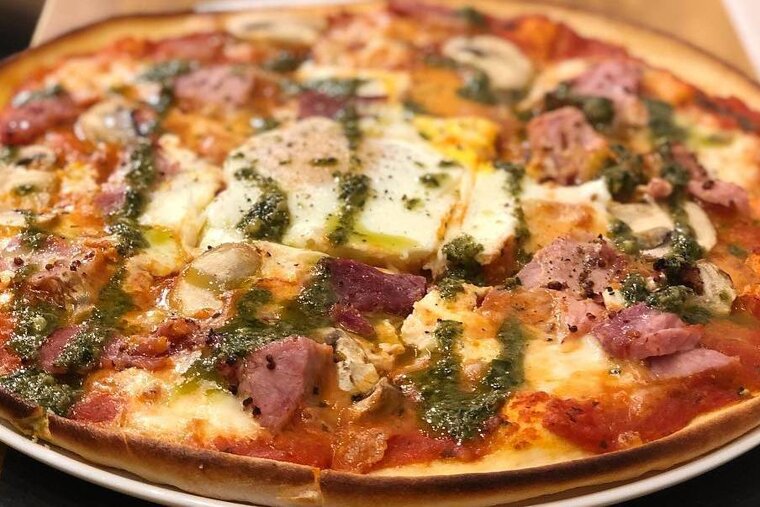 Cuisine 22 has taken over from Mammas in the centre of Morzine. This brilliantly located takeaway restaurant does what it says on the tin. It has a smaller menu than its predecessor but is still delicious especially when it comes to pizzas. There are also tacos and curry bowls on the menu, making it a great apres spot.
Pizza Schuss is also a handy little spot to know about. The little hut in the centre of Morzine has a delivery service, so if you fancy a night in your chalet but don't fancy cooking, then give Pizza Schuss a call and they'll bring your pizza to you. They're great value as well as being very friendly and convenient. Perfect for quiet nights in.
Best value pizza
If you can, travel a little out of Morzine to the next village of Saint Jean d'Aulps where you'll find a little hidden gem for our best value pizza. Bar National is a lively pub in the centre of the village with a great pizza menu. It's popular with locals and tourists alike, and is always buzzing with people. Each Tuesday they run a 2-4-1 pizza night which is extremely popular, and you can see why. Pizzas cost around €12 on a normal night, so Tuesdays mean amazing pizzas for as little as €6. They've got an extensive menu which is great for vegetarians and meat eaters alike. If you enjoy live music, quiz nights and pool competitions, it's well worth finding out a little bit more about this great pub. The pizzas have thick bases, plenty of flavour and some really fun and tasty toppings.
Best upmarket pizza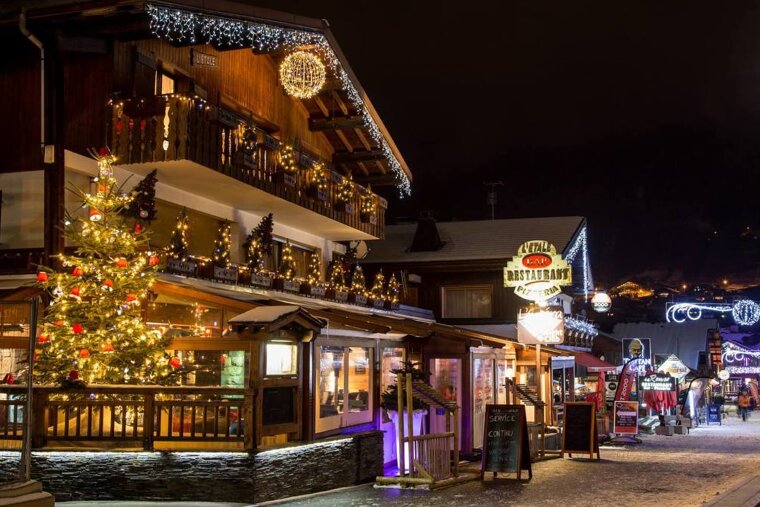 You might fancy a pizza but the rest of your party may be looking for something different. There are plenty of restaurants that have a pizza menu alongside other specialities. This often means the pizzas are slightly more expensive, but you're also paying for atmosphere and choice. We love the pizzas at L'Etale. This popular restaurant at the base of the Pleney in Morzine is always heaving with people. It's got an extensive pizza menu alongside Savoyard specialities like fondue and raclette, and a fantastic selection of puddings.
Similarly, the Tyrolien is a great place to head for a pizza and an experience that's a bit more than a fast food restaurant. The restaurant sits near the Super Morzine bubble and has some pretty impressive pizza ovens. It's got a great outside space for fair weather days, and the selection of pizzas is extensive. You'll find them open until quite late in the evening, so if you're looking for a snack after a night out this is a great place to head. For those who don't want to eat pizza, there are also lots of other options including salads and other Savoyard specialities.
Liveliest pizza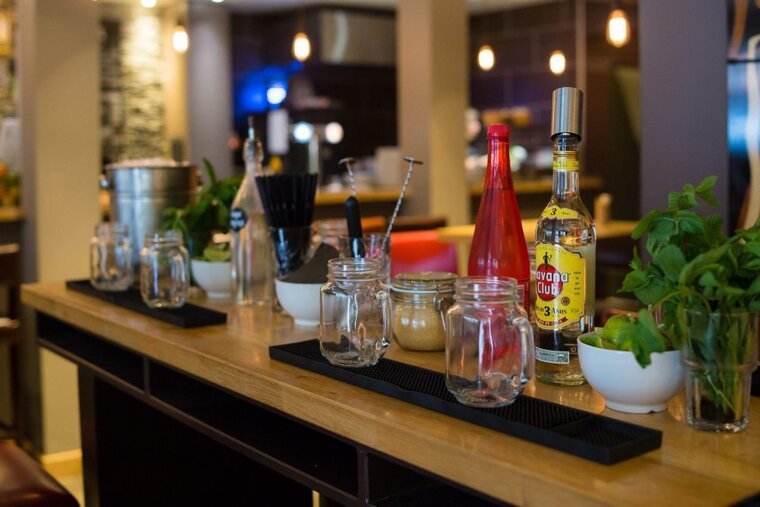 Beanies Coffee Shop and wine bar on the Rue du Bourg in Morzine installed pizza ovens for the 2017/18 season, and the results were delicious. Pizzas are available throughout the day and night, and are really popular with people enjoying apres late into the evening. They have a great selection of pizzas on offer, including some great options for veggies and non-cheese lovers. This isn't a place to go if you're looking for a quiet romantic meal, but is the perfect spot if you're looking for a bite of something to eat whilst on a night out. In the evenings the music is loud. There are often live bands playing, and there's a great menu of cocktails and other drinks. The team at Beanies are very welcoming and friendly and they certainly know how to cook up a good pizza.
Best selection of pizzas
The Coup de Coeur is a great wine bar that's open most days throughout the season. It has a fantastic wine list and some great cheese boards, but also serves delicious pizzas. And there's quite the selection. This bar has a great terrace overlooking the Pleney and the surrounding mountains, so you can enjoy your pizza with a view. The drinks and the food are really reasonably priced here, and the team is really welcoming. You're also treated to a plate of nibbles to enjoy whilst you look over the menu. It's one of our favourite places to head, whether it's for dinner, coffee, or a sneaky glass of wine.
Location
Morzine, Morzine