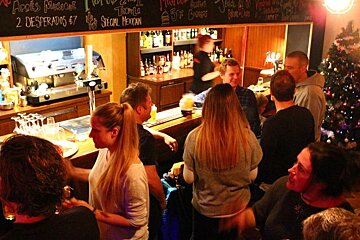 Nightlife in Morzine
Discover the top Morzine nightlife
Morzine wouldn't be the resort that it is without a good dose of après-ski to end the day!
Whether you prefer to soak up the late afternoon sun with a quiet glass of French wine or dance on the tables in your ski boots, beer jug in hand, Morzine has plenty of great spots when the lifts shut for the day.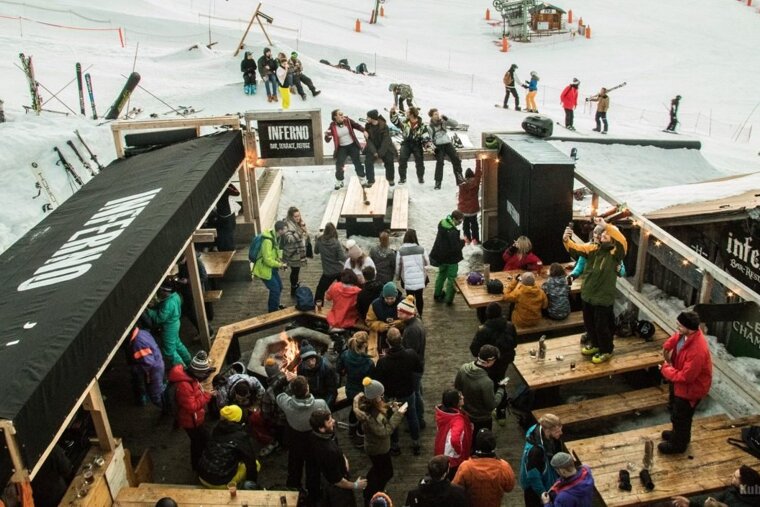 Après-ski
With a lively and vibrant après-ski scene, Morzine has plenty of spots opening their doors to welcome you off the pistes.
At the base of the Pleney and one of Morzine's most popular après haunts, Le Tremplin usually has a DJ or band playing so it's a great place to go to get the party started. Although be warned, if you start at the Tremplin there's a high risk of you might not want to head home for dinner...après often quickly becomes an accidental late night after starting there.
One of the most popular and famous bars in Morzine to head to for some après is Bar Robinsons, known more commonly around these parts as 'Robbos'. It's a no frills spot on the Rue du Bourg with the main pull coming in the shape of the beer it serves. The only beer on tap in Robbos is Mutzig, and we're not talking about the watered down version you get in some resorts, this is the real thing. At 8% you'll know when you've had a couple. Le Tibetan Café has a great après vibe with cocktails and live music. If it's a good glass of wine you enjoy for après-ski then head off to Le Coup de Coeur wine Bar on the main square in the centre of Morzine.
In Ardent, Happy Hours bar at the bottom of the Ardent cable car directly below the Lindarets ski area holds regular parties as you come off the slopes of Avoriaz. It's well worth heading there if you fancy a bit of lively après.
Late nights
If you're looking for some late night fun you're in luck, there are several bars and clubs that stay open until the early hours of the morning. In fact most of Morzine's bars stay open until 02:00, and there are a couple of places that carry on the party for even longer than that.
A great starter spot for an evening drink or two is Le Crepu, and you'll often find yourself there for a lot longer than you'd originally planned. The team know how to start the party, and as and when you leave turn right and bars such as The Tibetan Cafe, Coyote Bar and The Haka are right on your doorstep. The Sherpa Bar serves local ales and seems to be a popular place for a late evening pint or two. It also often throws live music and quiz nights, making it a good place to go to if you want an easy going drink or two.
One of the popular venues in town the Cavern Bar hosts some of the biggest parties, so you're bound to have a good time if you head here. You'll find live music and various guest musicians, good beer and al the major sporting events are shown too.
There is a nightclub in Morzine, l'Opera is open until 05:00.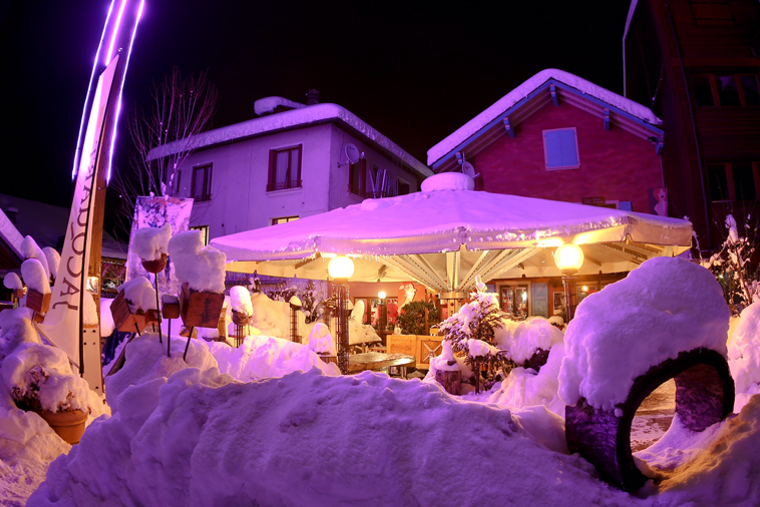 Sophisticated spots
If you're looking for a more civilised evening or have something to celebrate, there are several hotel bars in the resort that cater to wine enthusiasts, cocktail aficionados and casual drinkers alike, and many will also have live music. Some offer a little snack alongside your choice of beverages, ranging from a bowl of nibbles to an entire tapas board.
A great place to test out some local wines and cheeses whilst watching the sun go down behind the mountains is Coup de Coeur. The wine list features French wines including a number from the local Mont Blanc area (including Swiss and Italian wines). They also have a great pizza menu if you're looking for a bite to eat. It has a heated terrace with views of both the Pléney and the Nyon mountains, ideal for watching the ski school torchlit descent on Tuesdays.
A popular restaurant in Morzine with a downstairs wine bar, The Chaudanne is a relatively hidden gem. It's a glitzy addition to the wine bar scene in Morzine and serves a small menu of tapas as well as a good selection of wines. Many people choose to head here before having a meal in the restaurant above, however it's a great place to visit if you're looking for somewhere for a drink on a special occasion or for something a little upmarket.
Live music
Live music is not that hard to find in Morzine. From the smallest bar to the swanky hotel lounges, there's always something on. In fact, you'll be pleased to know that the band scene here has really taken off over the last couple of years. Most nights of the week you'll be able to find a bar offering some form of live music whether it's a band, a DJ or a local singer. You'll also find the odd open mic night if you fancy joining in yourself! Specific information regarding weekly line ups can be easily found by simply looking at any of the numerous information boards around resort, where each of the individual bars will post their weekly programmes and promotions.
A surprisingly successful live music venue, in the day Beanies is a popular coffee bar serving hot drinks and delicious cakes, but by night it's a wine bar often hosting singers like Amy Dearlove and bands like Zuri Aura.
More inspiration...
Keep an eye on our events calendar for all the latest parties and events in Morzine.