There's no shortage of places in Morzine to go for a drink or two but each bar offers something unique.
From amazing après ski spots to late night venues, there's something for everyone. Whether you're looking for a quiet drink or something more lively with some live music - Morzine really does have an eclectic mix, making it the perfect place for a holiday to remember no matter what you're looking for.
Après-ski
Inferno: For some après action whilst up on the mountain, head to this popular restaurant/bar found on the Nyon plateau. It throws big parties with bands playing on its branded double decker bus on the terrace overlooking Morzine and the surrounding mountains. You'll find people dancing on tables in ski boots and really enjoying themselves before skiing down the hill in time for dinner.
La Kinkerne: In Prodains this bar holds regular parties as punters come off the slopes of Avoriaz. It's well worth heading up to the Kinkerne if you fancy a bit of lively après.
L'Aubergade Hotel: At the base of the Pléney a regular host of après events, from big charity events to sausage festivals - you're likely to find something a little different going on at this piste-side venue. Local bands like the CAB Collective make regular appearances there and the team at the Aubergade certainly know how to throw a party.
Le Tremplin: Also at the base of the Pleney and one of Morzine's most popular après haunts, it usually has a DJ playing so it's a great place to go to get the party started. Although be warned, if you start at the Tremplin there's a high risk of you might not want to head home for dinner...après often quickly becomes an accidental late night after starting there.
Bar Robinsons: One of the most popular and famous bars in Morzine to head to for some après and known more commonly around these parts as 'Robbos'. It's a no frills spot on the Rue du Bourg with the main pull coming in the shape of the beer it serves. The only beer on tap in Robbos is Mutzig, and we're not talking about the watered down version you get in some resorts, this is the real thing. At 8% you'll know when you've had a couple. It's recently changed hands, the nephew of the original owners has taken over, meaning opening hours are a little more flexible these days and the bar stays open a little longer.
Chez Roger: Once you've had enough Mutzig but aren't quite ready to go home, then Chez Roger is a great next stop off. It's just up the road from Robbos and is great for an early evening drink or for a session that goes well into the night. Run by a local legend, Chez Roger's is a cheap, cheerful place to hangout after a day on the slopes. Drinks are served with cheesy nachos as well so if you're feeling a little peckish it's a welcome extra.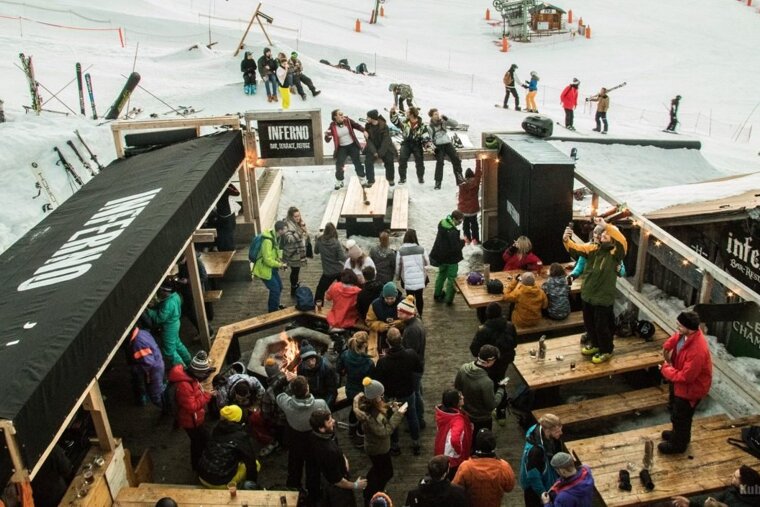 Late nights
Most of Morzine's bars stay open until late in the night (02:00) and there are a couple of places that carry on the party for even longer than that.
Le Crepu: A great starter spot for an evening drink or two and you'll often find yourself there for a lot longer than you'd originally planned. The team behind the Crepu know how to start the party. You can find the bar on the main street leading up to the Pléney, right next to some of the later venues. As you leave the Crepu you turn right and bars such as The Tibetan Cafe, Coyote Bar and The Cavern are right on your doorstep.
The Tibetan: Very popular with tourists, seasonnaires and expats alike. It has a DJ playing classic party tunes until about 03:00 most nights so it's a safe bet if you're looking for a late night.
Coyote Bar: Down the stairs from Tibetan you'll find an unusual mixture of kid's arcade games, shots and scantily clad ladies on the looping Fashion TV.
The Cavern: Downstairs again and you'll enter this main nightspot in Morzine, it's very popular on Wednesdays when hotel and chalet staff have a night off. You can expect a lot of shots to be making their way around. It's a good, friendly bar with a live DJ and screens showing ski and snowboard movies. A must visit night out if you're coming to Morzine, it's open until 02:00.
Cafe Chaud: Quickly becoming one of the most popular venues in town. Run by the team behind Retro Rentals and some of the biggest parties on the mountain, you're bound to have a good time if you head here. They like their alternative music in here, so you could find DnB, upbeat house, funk, world music or live bands on your visit.
There are only two clubs in Morzine:
l'Opera: Is open 'til 5am.
Le Paradis: Starts at 23:00 until 05:00 and there's always a good party to be had.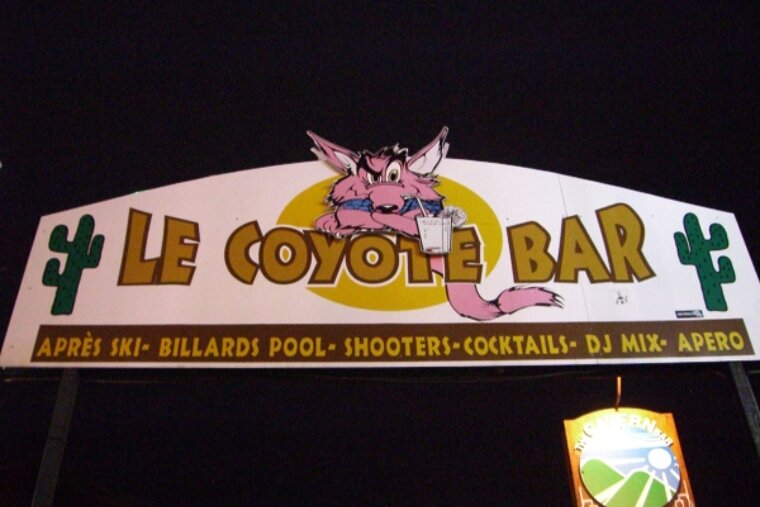 Wine bars
Coup de Coeur: A great place to test out some local wines and cheeses whilst watching the sun go down behind the mountains. The wine list features French wines including a number from the local Mont Blanc area (including Swiss and Italian wines). They also have a great pizza menu if you're looking for a bite to eat. It has a heated terrace with views of both the Pléney and the Nyon mountains, ideal for watching the ski school torchlit descent on Tuesdays.
The Chaudanne: A popular restaurant in Morzine, however its downstairs wine bar is a relatively hidden gem. It's a glitzy addition to the wine bar scene in Morzine and serves a small menu of tapas as well as a good selection of wines. Many people choose to head here before having a meal in the restaurant above, however it's a great place to visit if you're looking for somewhere for a drink on a special occasion or for something a little upmarket.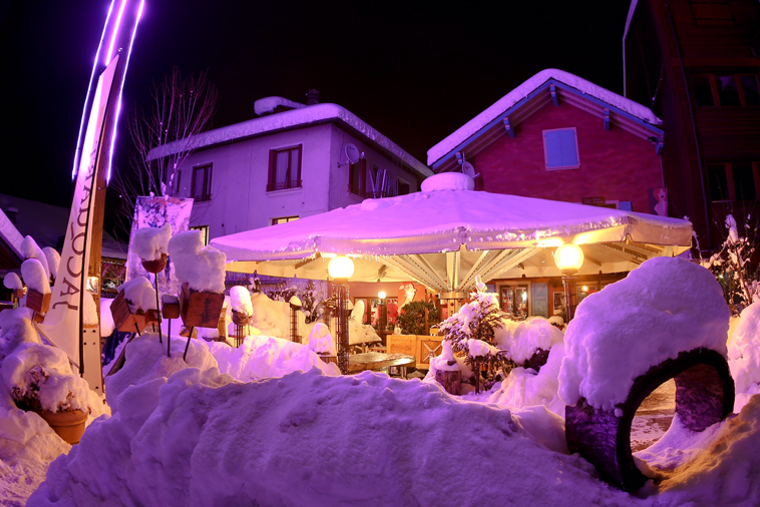 Live music
If you're looking for more of a party vibe and fancy dancing the night away to a little live music then you'll be pleased to know that the band scene in Morzine has really taken off over the last couple of years. Most nights of the week you'll be able to find a bar offering some form of live music whether it's a band, a DJ or a local singer. You'll also find the odd open mic night if you fancy joining in yourself!
Dixie Bar: The original live music venue and still going strong. Irish band 'the Dixie Micks' can often be found gigging there and they're a band not to be missed. Dixies is also a great place to head to for live sport. If there's an important football match happening, you're likely to be able to catch it here.
Beanies: A surprisingly successful live music venue. In the day it's a popular coffee bar serving hot drinks and delicious cakes but by night it's a wine bar often hosting singers like Amy Dearlove and bands like Zuri Aura.
Inferno: Remaining at the top of the live music venue list in Morzine this popular restaurant/bar can be found on the Nyon plateau so it's usually somewhere you head for a bit of an après party. It throws big parties with bands playing on its branded double decker bus on its terrace overlooking Morzine and the surrounding mountains. You'll find people dancing on tables in ski boots and really enjoying themselves before skiing down the hill in time for dinner.
La Kinkerne: In Prodains this is a big venue for the live music scene here in Morzine. It threw a series of festival style nights with live music from resident DJ Chicane to bring the season to a close. This year it's carrying on the tradition with regular music nights to entertain people as they come off the slopes of Avoriaz in the evenings. It's well worth heading up to the Kinkerne if you fancy a bit of lively après.
L'Aubergade Hotel: At the base of the Pléney is also a regular host of live music nights.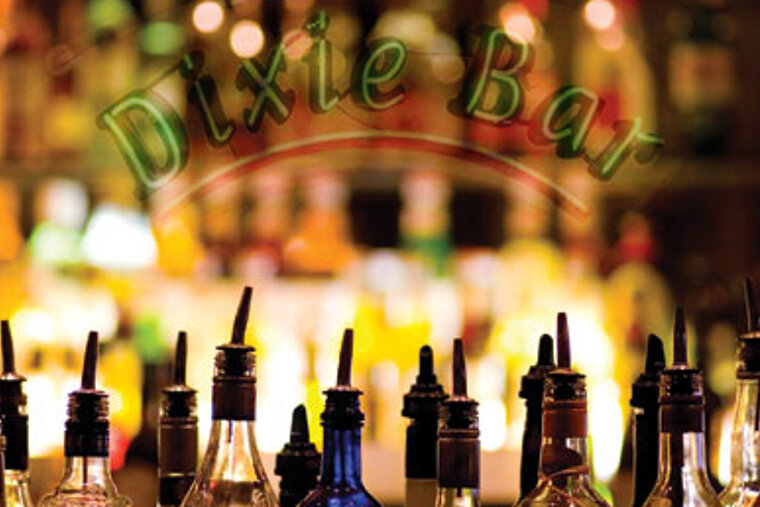 Best of the rest
There is a real up and coming beer scene in Morzine with micro breweries and local ales popping up all over the place. Mutzig remains a favourite in the area, however some locally made beers are starting to come into their own.
The Bec Jaune: Has really established itself as one of the favourite bars in Morzine and is continuing to grow in popularity. The guys behind the Bec produce their own beer and also work in conjunction with other local suppliers to bring something really different to the pub scene in Morzine. The food there is also really good so if you're looking for a lively night out and some non-savoyard food then the Bec is always a good option. Their scotch egg is the talk of the town, along with their amazing offering for vegetarians.
The Rhodos Bar: Also a popular haunt within the expat community in Morzine - it's open throughout the year and is a great place to go to if you're looking for a no frills attached pint, some decent pub grub and perhaps a game of pool. It serves a wide selection of beers as well if you're looking for a break from the wine.
The Sherpa Bar: Serves local ales as well and seems to be a popular place for a late evening pint or two. It also often throws live music and quiz nights so again, a good place to go to if you want an easy going drink or two.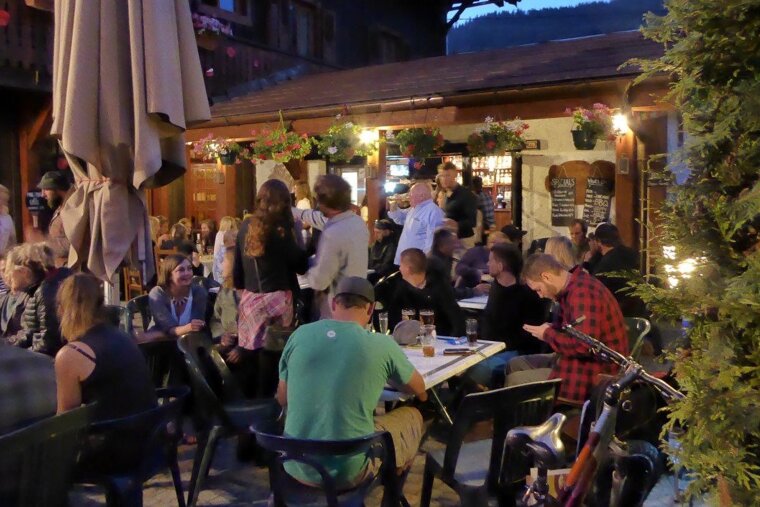 More inspiration...
Keep an eye on our Events Calendar for all the latest parties and events in Morzine.