Hotels vs chalets & apartments
---
Chalets and apartments are usually the most popular accommodation options when it comes to ski holidays. They tend to offer more room, more flexibility in terms of catering and, sometimes, better prices. However, hotels are also a great choice for those visiting Morzine, especially when you're not coming for a full week.
Why book a hotel room instead of a chalet or an apartment in Morzine?
If you aren't planning on a full week ski holiday, hotels can offer much more flexibility on dates, plus many can't be beaten in terms of extended services and facilities such as gourmet restaurants, spas, swimming pools, fitness rooms, tennis courts, childcare, bike and/or ski hire, flexible catering options... the choices are endless. And even though some apartment and chalet companies have recently made their booking requirements more flexible, the reality is that many can only be booked for six or seven days especially in peak season.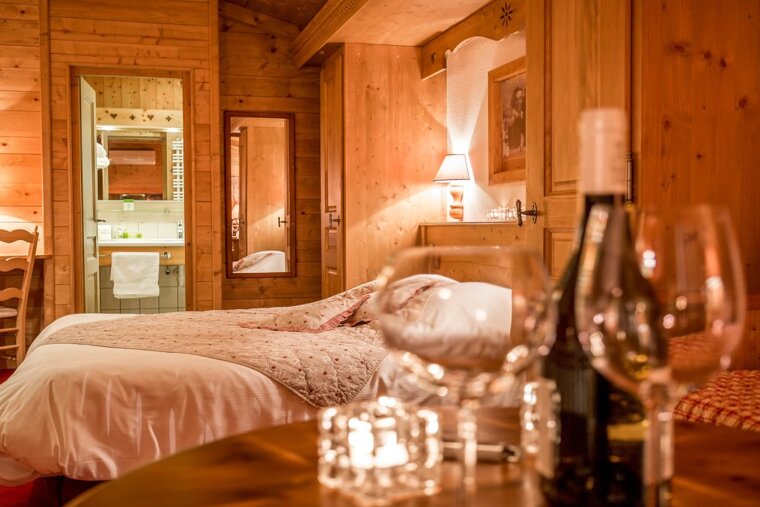 Luxury hotels in Morzine
---
Both Morzine and Les Gets are traditional Savoyard Alpine villages so it follows that the hotels that operate here tend to be smaller, family-run establishments rather than the big hotel chains so often found in other resorts. This means that there are no five-star hotels in the area. However, many of the four-star hotels here offer luxury facilities worthy of a five-star establishment.
Our favourite luxury hotels in Morzine
These are the ones that stand out from the rest thanks to their top-of-the-range facilities and services:
Hotel La Marmotte
La Marmotte Hotel is located at the foot of the slopes in the centre of the village. It boasts one of the largest spas in the area, with an 800m2 wellness suite, indoor swimming pool, hydro and light-therapy showers and a great range of treatments to enjoy. There's a choice of three restaurants at the hotel, each offering different cuisine, and a cosy tapas bar too. Stay here for easy access to the pistes, great food and a large spa and wellbeing area.

Hotel Le Dahu
Boasting two swimming pools, one outdoor and one indoor, which you'll find in their in-house spa and wellness area, Le Dahu Hotel offers guests plenty of great facilities. Le Petit D Restaurant within the hotel provides diners with a choice of gourmet French cuisine and local specialities, or tapas for those looking for a quick bite to eat. The hotel's sunny location just up the hillside from the centre of Morzine, means it benefits from great views of the surrounding mountains.

Hotel Le Labrador
Le Labrador has a traditional feel to its décor and plenty of alpine charm. They have a large outdoor pool and a private spa where you'll find a fitness room, jacuzzi and Turkish bath. You can choose to stay in one of the four types of bedrooms or opt for an apartment or chalet which are close to the main hotel.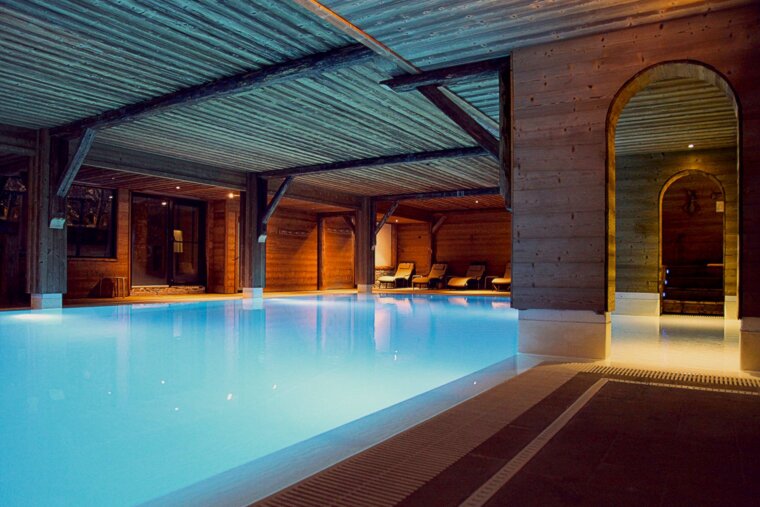 Group-friendly hotels in Morzine
---
Morzine has a good selection of aparthotels (apartment buildings with hotel facilities) that are great for groups or families sharing accommodation. Many of these apartments can accommodate small groups and, for larger parties, you can rent more than one.
Top group-friendly aparthotels in Morzine
These are our favourite apartment residences with hotel facilities and services in Morzine, offering spacious accommodation for groups.
Annapurna
A luxury residence located in Les Gets, Annapurna has apartments that can accommodate up to 12 guests. The building has a pool, jacuzzi, sauna and steam room, as well as a wine bar and restaurant should you get tired of self-catering.

L'Aiglon de Morzine
Only a five-minute walk from the Super Morzine lift, L'Aiglon de Morzine is an aparthotel with apartments for up to nine people. An on-site gym, spa with beauty and massage treatments and lots of services including a bakery delivery every morning complete this residence's luxury offerings.

Les Armaillis
Les Armaillis are two large chalets divided into apartments accommodating up to 16 people. Communal facilities include a car park, sauna, games room, garden, BBQ and laundry room.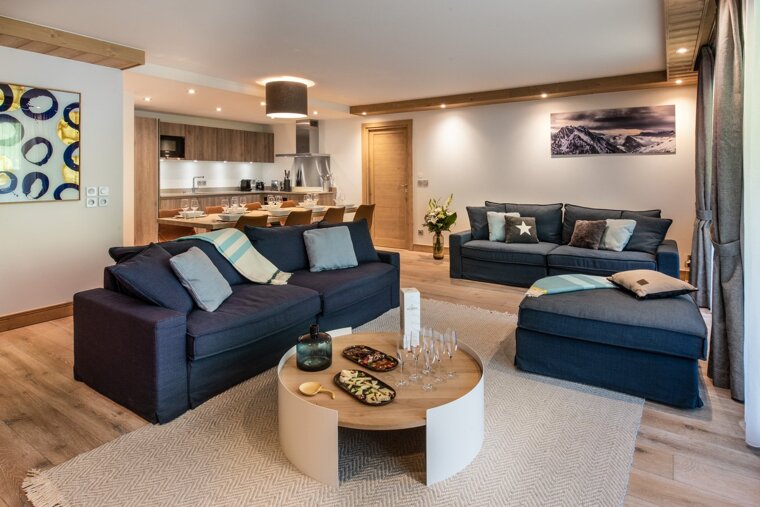 Family-friendly hotels in Morzine
---
Most hotels in Morzine and Les Gets are more than happy to welcome young children and many of them offer family rooms. However, there are many other things to consider, such as distance to the pistes, amenities and services within the hotel and facilities in the neighbouring area.
Best family-friendly hotels in Morzine
This is where we'd book a room if we were travelling with young children.
Hotel La Bergerie
With an outdoor heated swimming pool that you can use in summer and winter, and plenty of facilities for children, La Bergerie Hotel is a great choice for families coming to Morzine. There's an outdoor sauna and steam room in the garden, a trampoline, slide, table tennis and games for the children to play with. If being on the mountain all day isn't enough to keep you fit, they also have a gym and massage room within the hotel.

Hotel Champs Fleuris
If you'd like to be close to the Pleney piste and the children's nursery ski area, the Champs Fleuris Hotel is nestled at the foot of the slopes, with the ski area just out front. There's an outdoor heated swimming pool which is covered in winter and a smaller indoor one located in their stylish, modern spa. If you'd like more privacy, the hotel also offers two large apartments which are located just 20 metres from the main building.

Hotel Le Christiania
Offering ski-in and ski-out access, the Christiania Hotel is a budget-friendly hotel just 60m from the Chavannes chairlift. Offering only 19 rooms, several of them are well suited to families with space for additional beds and offer child and teenager reductions. There's also a dedicated playroom where the kids will be entertained while you warm your cockles at the bar and fireside lounge.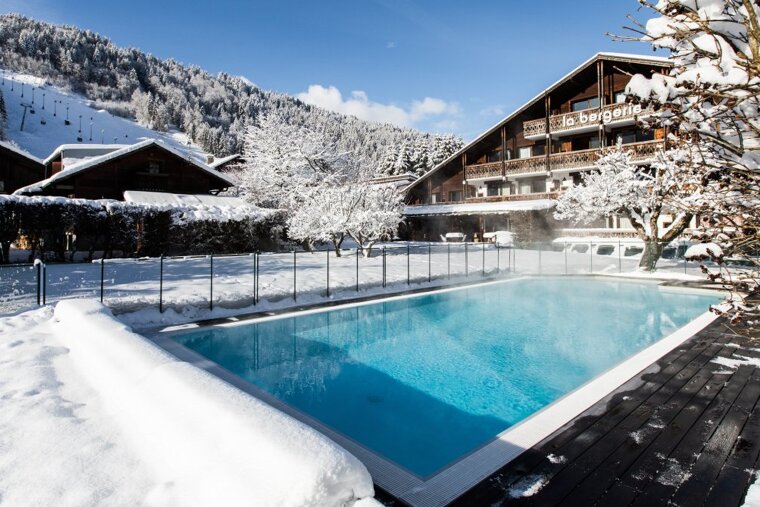 Cheap hotels in Morzine
---
There are plenty of cheap hotels in Morzine and Les Gets offering decent quality rooms at reasonable prices. Many are located in the town centre, making them a good place to base yourself on your mountain biking or ski holiday while saving some money at the same time.
Best-value hotels in Morzine
In our opinion, these hotels offer the most bang for your buck.
Hideout Hostel
The only hostel in Morzine, Hideout Hostel is a modern, hip establishment attracting a young crowd. Its cheap prices, with a selection of double, triple and dorm rooms, central location and lively popular bar make it a great choice for those who want a no-fuss, friendly place to stay.

Hotel Les Fleurs
A family-run hotel, Hotel Les Fleurs stands at the entrance of Morzine, in a quiet area perfect for families but close enough to the town centre. Simple accommodation at reasonable prices is what this place is all about. In the summer, you can enjoy their outdoor pool and relax on their spacious terrace or enjoy a stroll in the large garden.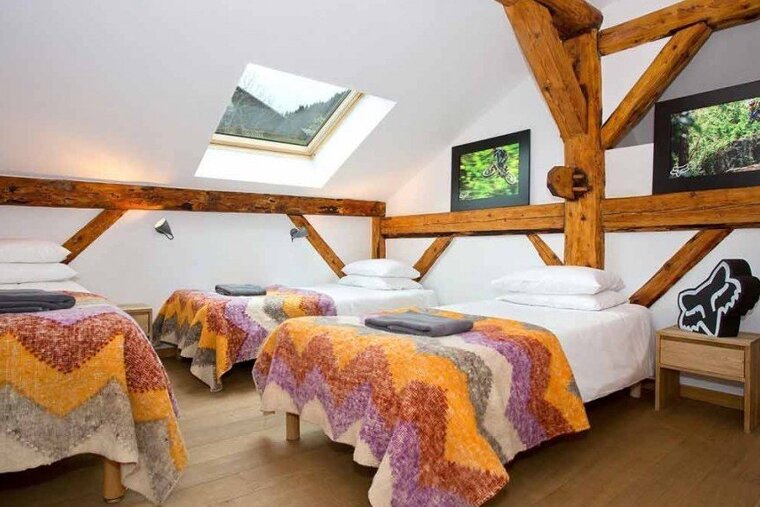 Ski-in & ski-out hotels in Morzine
---
Almost all of the hotels in the Morzine area boast easy access to the pistes and ski lifts, either sitting right next to the foot of the slopes or just a short trip away by one of the free local buses.
Our favourite hotels near the lifts
If we were to choose, these would be our favourite hotels in Morzine with ski-to-door access.
Hotel L'Igloo
The three-star Hotel l'Igloo is just a short walk from the Pléney and Super Morzine lifts, perfect for those wanting to get in a full day on the mountain with first lifts and last tracks back. Offering bed & breakfast, the hotel also has a fully equipped kitchen open to guests and a few studio apartments available. A sauna, small fitness room and massages and beauty treatments on offer make this hotel a great option for those who want to be centrally located while also close to the slopes.

Chalet Hotel Au Coin du Feu
The warm and cosy catered chalet-style Au Coin du Feu Hotel is located in the Les Prodains area, providing fantastic access to Avoriaz with the cable car situated just opposite, and the ability to ski back to the doorstep. After a day on the mountain, you can book a massage treatment to soothe tense muscles, chill out in the jacuzzi taking in the stunning mountain views or heat yourself to the bone in the sauna.

Chalet Hotel La Chaumiere
Only 20m from the Pléney lift, La Chaumiere is run by a husband and wife team. Mixing contemporary and traditional décor, its rooms are individually designed. An indoor heated pool completes the offering.